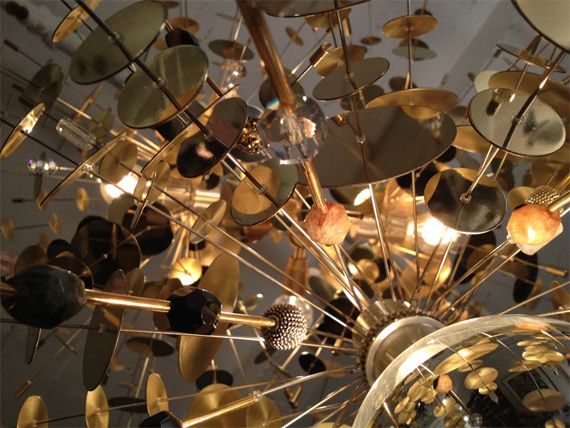 Photo Courtesy of Avram Rusu Studio
Brooklyn-based
luxury home furnishings
company Avram Rusu recently introduced their Confetti and Confetti Glass Lighting collections. The collection represents a series of custom made light fixtures that developed from the theme of "New Years Eve," which designer Andreea Avram Rusu built off of for the New York City Holiday House show. Channeling the glittery imagery of champagne bubbles and soft lighting into her pieces, Avram Rusu gained such positive response she decided to expand on the concept.
"I was drawn to the idea of making each one truly bespoke and embellished to fit individual taste. This collection allowed me to experiment with scale, materials, finishes, and composition," Andreea said. "Confetti Glass came from my desire to modulate the quality and color of light. The hand blown glass diffuses and warms the light to create the look and feel of candlelight."
The metal disks used to create the sculptural pieces come in Brass or Stainless finishes and are interspersed with hand-blown glass made by Brooklyn artist Michiko Sakano. The glass comes in various colors and plays off tones of opal, cream, white, and neutral palettes. In addition, newer pieces in the collection can also include Swarovski crystals and semi-precious stones such as agate and multi-colored quartz.
The Wanted Collection will also feature designs with amber and rose accent colors, which will offset the polished and satin finishes of the metal disks, playing with a combination of both light and color. Foundational designs include the options of chandelier, pendant, and sconce.
To see the company's full range of work visit
AvramRusuInteriors.com