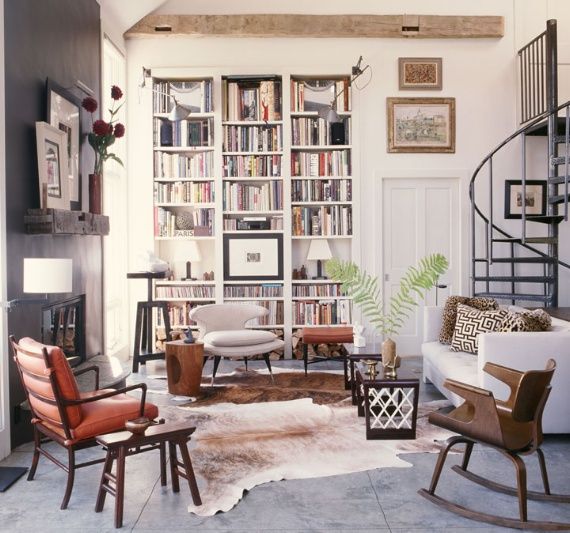 Photo Credit: William Waldron
Michael Rosenberg, owner of the boutique New York
interior design
firm, Michael Rosenberg & Associates, works wherever his clients have luxury homes. He and his team have designed projects in Miami, Cincinnati, Chicago, Palm Bridge, South Hampton, and of course, New York City. Many of these projects have been featured in
Architectural Digest
,
Elle Dťcor, New York Spaces
, and the TV show
Open House
on NBC.
Gail Doby: Letís start off with what is one of your very favorite projects today, and what about it that is so special.
Michael Rosenberg:
We just completed a project in New York City which is in a specific architectural building that was designed as artistsí studios. This project had a double story drawing room with a baronial fireplace with very heavily carved ceilings. It was designed for the artist in the 1920s. This has been a wonderful project. We basically have gone in, modified it so that a family could live in it in todayís times and styles, and it really gave us an opportunity to step back in time yet move forward as well.
GD: What are some of the challenges with that project?
MR:
Well, the challenge is, of course, bringing the 21st century into that type of building, being pre-war; adding air-conditioning, trying to accommodate existing conditions, ceilings, being a structure of the past, not new construction. Those were major challenges.
Jeff Sturges
Photo Credit: Jeff Sturge
GD: What was your journey to becoming a designer?
MR:
My journey was I went to Virginia Commonwealth University in Richmond, Virginia. Itís one of the oldest interior design schools in America. My initial approach wasnít interior design or the arts, but then I fell into it as I felt it was an area of great creativity. It was just something I just approached, and from that, from graduating, I moved into actually store planning. I worked with store planning and visual merchandising, which is very, very good; it gave me a strong foundation in design. Then I worked with interior designer Jay Spectre in New York, which was really quite exciting in that period of time when I worked with him. From that point, Iíd moved out on my own. Itís a progression of experiences that led me into what I am and what I do today.
Bruce Buck
Photo Credit: Bruce Buck
GD: In working with Jay, what attracted you to work with him? How did that come about?
MR:
Well, at that time in the 80s, he was really quite the trendsetter that used stainless steel in a very modern, very progressive way. We worked on fantastic projects at that point in the prime buildings in the United Statesóin Palm Beach and all throughout the U.S., and it really gave me an opportunity to learn a great deal. His clean style has uniqueness and he used different materials, which really attracted me.
GD: What excites you about design these days?
MR:
What excites me about design today is the challenge of a whole new mentality of designĖhow you have to approach design, how clients are looking at design. Trends, if youíre asking about trends, I donít do trends. So, I donít really follow the magazines and say, ďThis is today, this is whatís right at the moment.Ē Iím not that type of designer. I understand whatís going on, Iím very, very up on everything, but itís what my style is. If I have a certain style, then I blend in everything.
Joshua McHugh
Photo Credit: Joshua McHugh
GD: Whatís your favorite element in your house? Either a design element or maybe itís a piece of art or furniture. What would that be?
MR:
I live a very quiet, minimal life, very simple. My choice would be just a painting and a chair in a room. It would be fantastic for me. Just the beauty of that one piece and a great painting in clean walls would be totally thrilling. I have a table that has seven beautiful little sculptures on it, little bronzes and a variety of different periods of sculpture. Thatís the kind of thing that excites me.
GD: What would people be most surprised to know about you?
MR:
Actually, Iím a very nice guy.
[Laughter]
GD: [Laughter] Of course, you are!
MR:
Iím very approachable. Thatís really the truth.
Visit
MRosenbergAssociates.com
to see more.