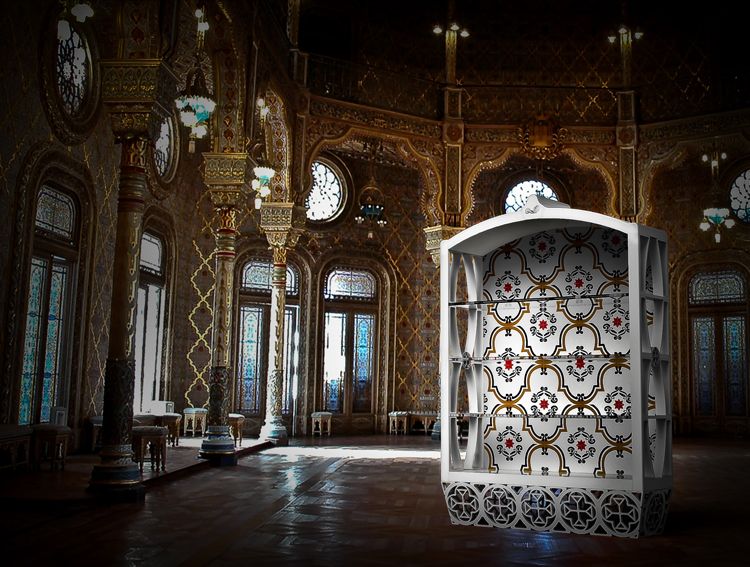 Photo Courtesy of UNDA
The entire look and feel of a room can drastically change depending on what type of
home furnishings
are used, and hunting for the right pieces can take time. We want to cut that time down for you and introduce you to UNDA | Sleepless Design. The exclusive furniture and lighting company finds inspiration in the beauty of mythology, specifically within Gods, Goddesses, warriors, strange creatures, and the real men and women the stories stem from. UNDA promises their customers that buying a furniture piece from them is like buying a slice of art history, instantly turning their space into something dramatic and beautiful.
"All of the emotions that come to us when reading a Tale or admiring other pieces of Art are given to our designs. It's very important for UNDA to mix the soft, curvy, tender and loving shapes with the strong, intransigent and bold structures," says UNDA. "Only this way we can create an atmosphere that even resembles with the 'out of this world' stories, and allow you to be a part of our dream."
UNDA, Latin for Ondine (a water Goddess who gave up her immortality for love, only to have her heart broken in the end) is based in Portugal, and they certainly what they're doing when it comes to intriguing
luxury furniture
. While they have collections (The Unique Edition and Magni Collection), with new designs added every month, they also cater to their clients' needs and can customize any piece.
We really love how much information they give on their site about each piece of furniture, including what inspired each one. In the Unique Edition Collection is the Lusitano Chiffonier, which is made up of blackwood timber, golf leaf interior, and a hand-painted Indian pattern. Inspired by a Portuguese poem by Luís Vaz de Cam?es, this chiffonier features a really neat cut-out pattern in the middle, bringing more contrast between the rich dark wood and the intricate red accents.
Also in the Unique Edition is Boreas, a sideboard inspired by the Greek God of the North Winter. The entire thing is made from wood but when closed, resembles a jagged block of ice due to the patterning of lacquered copper. We love the chilled look to it and think it would be impossible to ignore.
The Lotus is in the Magni Collection and it's definitely one to take a look at. In white and black, the interesting desk brings in the hard, coldness of the Boreas on one end, but transforms it into something softer and more classic on the other. UNDA intends for it to present a paradox of "classicism morphing into deconstruction in a surprising hybrid." We just love the deceptively delicate look to it.
All homes need a source of light and UNDA isn't about to disappoint. The Torso Table lamp is a twisted geometric design that was inspired by the building "Turning Torso," which sits in Sweden. The lamp comes in five different colors (turquoise, gold, silver, red, and hot pink) and is made of wooden boards and plexiglass. It may not look great sitting on the Lotus desk, but it would definitely work well with something understated so it can be the center of attention.
UNDA's price range is from $975 for the Torso Table lamp to $60,985 for Lusitano Chiffonier.
For more information visit
UNDAdesign.wordpress.com