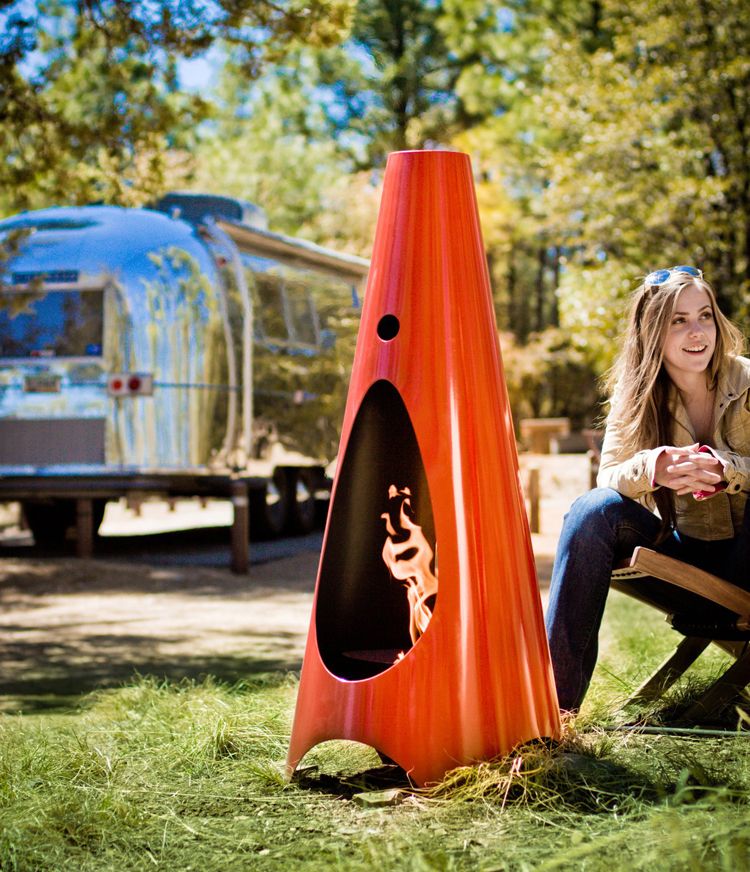 Photo Courtesy of Modfire
The weather outside is still breaking record highs around the country, but come fall, it will thankfully start cooling down. What better way to spend a chilly night than cuddling in front of a roaring fire? We've decided to help you get a head start on the cozy weather by compiling a list of some of the hottest fireplaces around. Not only will these indoor/outdoor units keep you warm, they'll look great with your favorite
home furnishings
.
Modfire
delivers funky, mod-inspired portable fireplaces that give a quirky edge to your campsite or living room. Designer Brandon Williams won the
Dwell on Design
award for best furniture or accessory design, and it's easy to see why. Built in Arizona, the Modfire collection is full of bigger designs than other portable fireplaces, creating even more heat, and making them a perfect focal point for any outdoor living area.
Brasa
offers eco-friendly portable fireplaces. They may not sound like much, but the small sizes supply some big flames for warmth and maximum
home décor
impact. Powered by biofuel, Brasa fireplaces work both indoors and out, and require no installation. With a sleek, sophisticated design they warm up any contemporary or traditional dwelling in a flash.
Photo Courtesy of Brasa
The
Anywhere Fireplace
is a portable fireplace designed for both indoor and outdoor use and includes different models that are wall mounted and others that are placed on a floor or any steady surface. To ensure they fit in with any décor, there are several different models available to create a warm ambience anywhere in the home.
Photo Courtesy of Anywhere Fireplaces
Napoleon fireplaces
are perfect ways to add a fireplace to any room, making it look as though it was built in. But even better, they don't need any power to function. Just fit a fireplace to the wall you want and voila! Burn, baby, burn.
Photo Courtesy of Napoleon Fireplaces
Regency Contemporary Fireplaces
offer several models and are inspired by contemporary home décor. Choose your fuel, style and then get ready to heat up the night. The company has a high standard of quality and service and the fireplaces even come with a lifetime warranty.
Photo Courtesy of Regency Fireplaces
Modern Moonshine
may have a grown-up hippie aesthetic, but the quirky company has a clear vision when it comes to making portable fireplaces. Somewhere between 60s modern and beach house friendly, Modern Moonshine is an up and coming company that clearly has places to go, whether it's hosting a fireplace on the beach or in your living room.
Photo Courtesy of Modern Moonshine