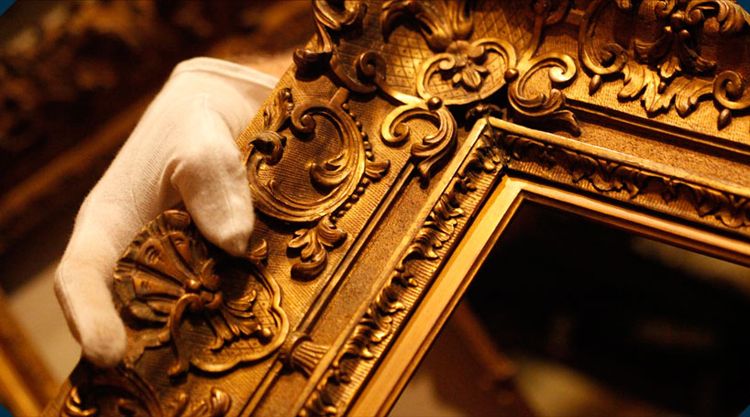 Photo Courtesy of Eli Wilner & Company
If a picture is worth a thousand words, then it's only sensible to use a similarly outstanding frame that suits it. Eli Wilner & Company has framed over 10,000 pieces for many famous museums, various art collectors, and even the White House. With such an outstanding resume, we're pretty sure you can trust your own private art collection in their hands.
Founded in 1983 by framing expert Eli Wilner, the once one-man shop has grown to become a team of 25. Using antique frames and creating replica antiques, Eli Wilner & Company has an astonishing resume that includes doing 28 frames for the White House. Most recently, the team made a hand-carved and gilded replica of the lost original frame for
Washington Crossing the Delaware
by Emanuel Leutze. The 12x21 foot frame can now be seen in the American Wing at The Metropolitan Museum of Art in New York and is surmounted by an elaborate construction, twelve feet across and displaying an eagle, flags, pikes, a banner and other regalia.
When the team isn't working on a large-scale project, they are busy sourcing antique frames for various famous pieces. Over the years, Eli Wilner & Company has loaned several hundred frames for the Old Master and 19th Century European painting sales at Sotheby's, Christie's, Bonhams and Doyle.
The impressive resume of Eli Wilner continues to grow. As a leading expert on antique frames in the capacity of frame dealer, restorer and collector, Wilner is also published in many publications on the subject. His writter works include "Antique American Frames: Identification and Price Guide," written with Mervyn Kaufman and published by Avon, and "The Gilded Edge," giving a look at the history of American period frames.
Although many museums around the world use the framing company, Eli Wilner & Company provide many services for individual clients located around the world, including art handling and installation, customized lighting, and fitting services.
If you have a priceless work of art and have been looking for the perfect frame, make sure to visit
EliWilner.com
.