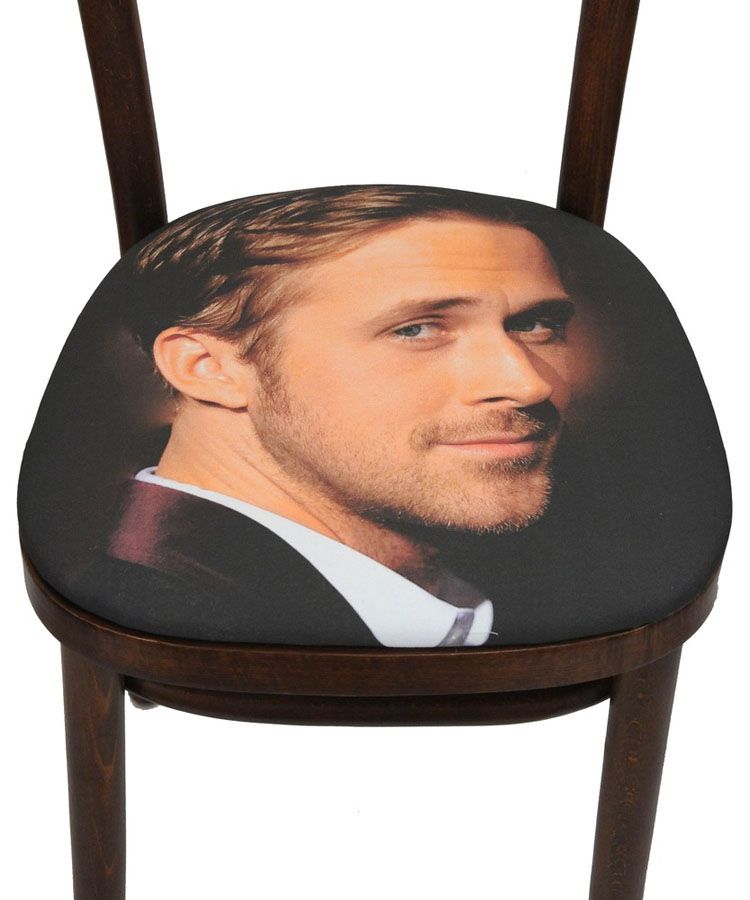 Photo Courtesy of Face Chairs
Pretty much everyone has a celebrity crush. As a teen, posters of their flawless faces happily hung in your room, and as you got older you continued to follow their life through every blockbuster, break-up, make-up, and plastic surgery scandal. Every once in a while you catch yourself daydreaming about what it would feel like to meet them, shake their hand, maybe grab coffee or even a quick bite to eat. Here is something you probably never considered, though – what it would feel like to sit on their face.
Get your mind out of the gutter; I'm talking about chairs!
Now, thanks to world-renowned fashion and entertainment photographer, Jennifer Graylock, and her cleverly titled new "Sit on my Face" chairs, you can plant your derri?re on the face of your favorite mega-watt star. Known for capturing beautiful photos of pop culture icons such as Madonna, Nicole Kidman, Kate Hudson, Sophia Loren, President Barack Obama and George Clooney, Graylock took these stars and immortalized them even further by turning them into one of your favorite home accessories.
Having had her work featured in some of the world's most popular fashion and celebrity magazines, Jennifer Graylock explains her new venture with, "The creative process took me on a ride to examine the essence of celebrity fascination, all the pomp and circumstances…Then it hit me!" The "Face Chairs" Art Series collection gives adoring fans, and non-fans alike, their own personal experience with the celebrity of their liking.
As a child, Graylock would help her grandfather restore and craft furniture, so merging her love for furniture design with her passion for photography seemed only the natural progression. "In creating this limited edition, signed, art statement, I select and carefully restore visually interesting vintage and modern designer chairs in a variety of shapes and pair them with celebrity images from my collection shot at pivotal moments in each figure's life," said Graylock.
These cheeky chairs are sure to add character to any home (or at the very least be a great conversation starter), and beginning September 15th the collection will be available for sale on Fab.com, or you can purchase them directly from the Face Chairs Website for $950 each.
For more information on these chairs visit
FaceChairs.com
.