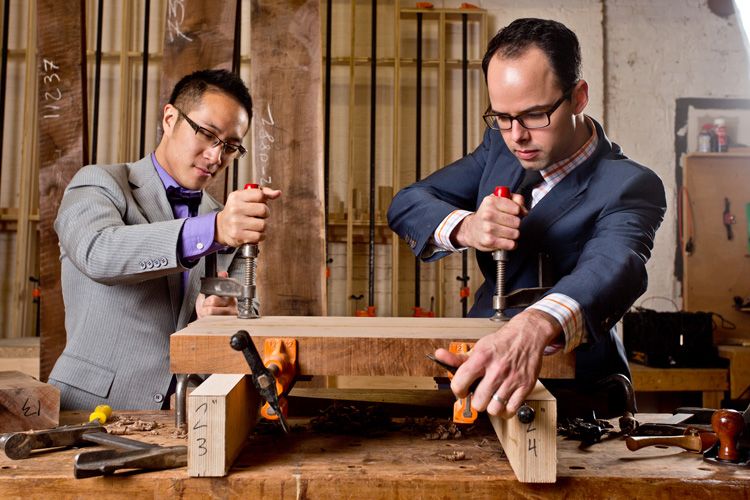 Photo Courtesy of Hellman-Chang
Longtime friends Daniel Hellman and Eric Chang started building furniture in their parents' garage during their summers, teaching themselves how to build from solid wood. Who knew that their hobby would one day turn into a flourishing career and a worldwide successful business venture? Even heading off to two separate colleges couldn't separate their passion for creating unique furniture designs, reuniting after graduation to form their very own
luxury furniture
company, Herman-Chang, in 2006.
Their efforts have brought them much acclaim, specifically from
Interior Design Magazine's Best of Year Design Awards
, and recognition in
Home and Design Magazine's Top 100 Designs of the Decade
. No small potatoes for a couple of guys that started designing furniture from the garage, right? The best part of this success story, is that they are both self-taught, and are starting to make waves across the globe, quickly becoming known as the "industry's leading" duo for innovative design.
Have you ever seen those glamorous homes on shows like MTV's "Cribs"? Hellman and Chang have developed some of the furniture found in many celebrity homes, as well as in major architectural wonders, such as the Waldorf Astoria, the Ritz Carlton and the Four Seasons Hotel, to name a few. They have also designed furniture for hit shows and movies, like "Gossip Girl" and "Sex in the City 2".
Make sure to check out their Crystal Edition Omni Side Table, which has a base price of $12,000. The distinctive piece is "as much sculptural art as it is functional furniture." Lined with thousands of loose Swarovski crystals, the small table has a geode feel to it, with the gagged rocky interior giving way to the smooth finish of the surface.
The Xie Executive Desk would be a dramatic addition to any CEO's office, great for propping your feet up on while barking orders. With a base price of $14,800, this desk could easily be the center piece of a room, with the arching patterns stretching to the backside of it. The top is carved in a floating style reminiscent of oriental design and the desk can be customized in various ways, including adding a pull-out computer tower drawer and an inset leather top.
Some other furniture standouts of the Hellman-Change designs includes the Z Side Table, which is sleek yet sturdy, and can be sold individually or in a pair. The Elise Cocktail Table is in the shape of a surfboard, but exudes class with its arched edges and custom starfire glass down the center, and the Avery Chair requires 40 hours of hand-crafting. If lamps are more your thing, the Anora Lamp is Hellman-Chang's first lighting piece which spotlights an asymmetrical lampshade, all while maintaining the iconic z-line shape in its base, providing the ultimate balance and poise.
Pretty impressive, no?
For more information visit
Hellman-Chang.com
.