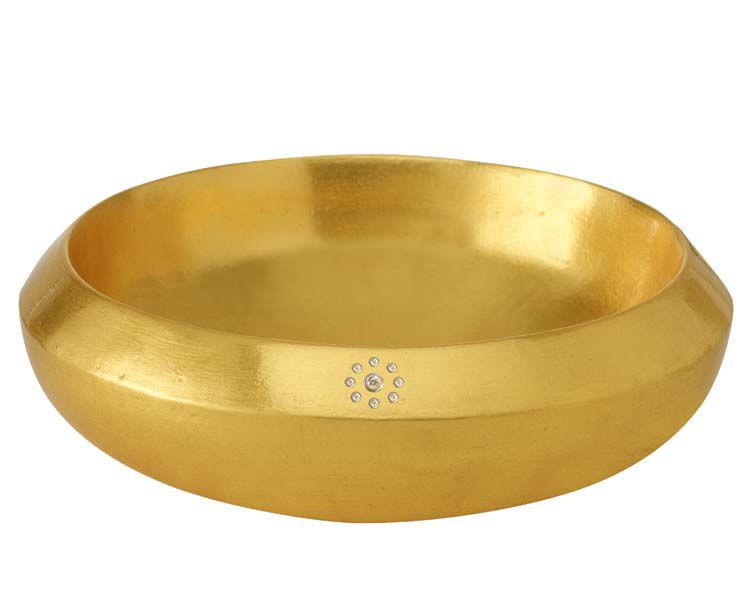 Photo Courtesy of Luxury Edition and Gallery
People go to great heights in the endless search for reasons to get out of bed in the morning. Forget love and living out your dreams though, all you really need is a golden washbasin. Nothing could be more inspirational than to look at your reflection with that glowing feature below you, being used for such menial tasks as washing your face and brushing your teeth. For all of your
luxury bathroom
needs, the company Luxury Edition and Gallery based in Stockholm, Sweden offers a $95,000 golden sink with 8 diamonds inlayed on the rim.
Also offered is the Orno, a smaller aluminum model that includes a platinum 24 karat gold-plated rim. You may find this seemingly imprudent use of so precious a metal disheartening, but don't blame Sweden. According to the CIA, 9.3 percent of
the country's exports
go to Norway, named Forbes' fourth richest country in the world, so I suspect they are the ones responsible for the market these costly bathroom utilities cater to.
Since you are no longer angry at Sweden and if you were in the first place, you probably think expensive metals are put to better use far away from the toilet, there's a copper-topped mahogany coffee-table in the shape of Sweden for just $5.5 thousand. The elongated shaped may look strange on its own but it would probably look pretty good in front of a plush couch.
Or, if you've always wanted an $8,500 chair, look no further. The Toro is made of solid, intricately carved wood, and silk upholstery that is hand-painted black. The legs are surprisingly made of polished steel (but all you have to do is ask, and they'll be happy plate them in 24 karat gold). The steel legs add a nice modern touch to the seat, which looks like it came straight out of Marseilles.
Swedish home improvement is obviously no joke, so wipe that disbelieving grin off your face and visit
LuxuryEditionandGallery.com
for the proof.