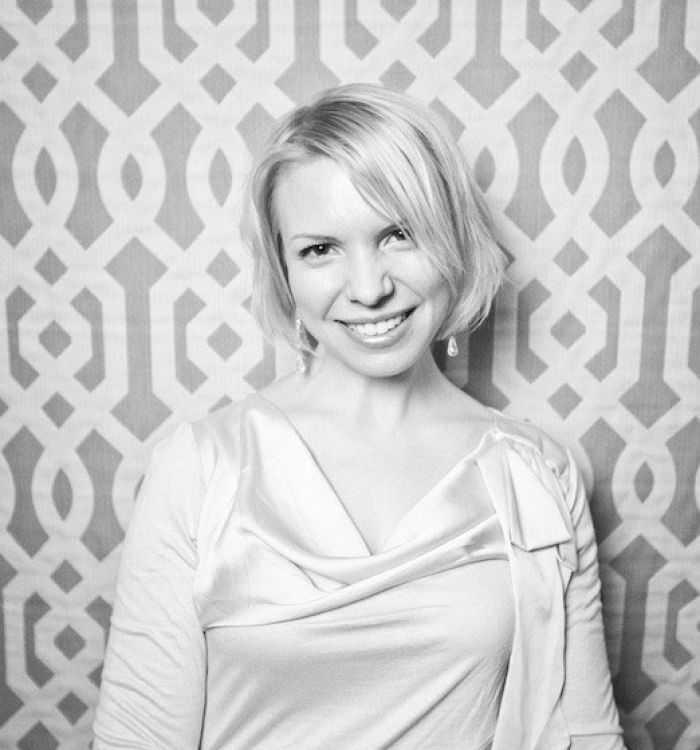 Photo Courtesy of Susan Hopkins
In April, Philadelphia interior designer Susan Hopkins received a surprising call from someone who saw her website. That one phone call turned into a life-changing opportunity for her.
Gail Doby: How were you contacted to become a part of the George to the Rescue project?
Susan Hopkins:
The producer called and left a voice mail for me while I was in a client meeting late one evening. The voice mail said, "Hi, Susan. This is Andy S. at 30 Rock …"
I couldn't believe it was real. I believe that they found me just from searching through Google. 
Gail: They just called you out-of-the-blue? 
Susan:
Right, they did! I have a photo on my website. The producer told me that he felt that I had the right look for the show. 
Gail: Tell us about George to the Rescue.
Susan:
It is a mini-version of
Extreme Home Makeover Home Edition
. George Oliphant typically helps single families, and he helps people who are helping others as well. 
Gail: Who were you helping in this episode? 
Susan:
 Her name is Brenda Jones and she's a breast cancer survivor. When she started chemotherapy, she went to the first treatment and waited in her hospital gown with other cancer patients for her treatment. Aside from being totally upset that she had cancer, she felt like a number. After that day, she went home and decided to make something for herself to feel more comfortable and not as cold, and also express her personality. Brenda created a "Hug Wrap" as it is now called, and she wore it to her next appointment. Another patient asked her, "I love that wrap that you have on. Where did you get it, if you don't mind me asking?" When she told her she sewed it herself, the woman asked if she could make one for her. 
That was the beginning of Brenda's nonprofit called "Hug Wraps." She has been working hard ever since to build her nonprofit organization. It literally took over her house, so she contacted George and told him that she would really love his help; that she was disorganized, and that she had fabrics all over the house.
That's how Brenda's project came about. She is an amazing woman; very vibrant and loving. The first time I met her, she hugged me. She is also fun-loving and she cares about the people that call her or email her to inquire about Hug Wraps. 
Gail: She also does this for children who are going to cancer treatments?
Susan:
She does! When I saw the fabrics and how many of them were child prints, it affected me deeply. When Brenda gets an inquiry from the parents for a Hug Wrap for a child, not only will she supply that child with a Hug Wrap, but she will actually make a blanket and a little pillow casing, and sometimes even a little stuffed animal that is made of the same fabric, so they all go together. 
Brenda will even make Hug Wraps for the entire children's ward so that all of the children feel special. The purpose of the blankets, pillows, and stuffed animals — if they're going into treatment and their moms or their dads can't be there with them, it's something for them to hold and for them to have with them. It's very touching. 
Brenda, even after I met her, actually reminds me a little bit of my grandmother who died of cancer. The story made me feel like that sixteen-year-old hopeless girl inside of me, who wanted to help. I knew at that time, that I wanted to do something for cancer and to just help people in the future. And this was my way of helping, while doing something that I am passionate about.
It actually helped not just Brenda, but all of the people whose lives she has touched. I knew if I could help Brenda be efficient and organized, it would be a great way to help.
Gail: Was there anything that surprised you about the behind-the-scenes process? 
Susan:
  There weren't many rules. I kept asking Andy, the producer, "I have this budget. Is there anything else that I need to take into consideration?" He kept saying, "No, no. Whatever you want to do, we will support you." I brought in trades people that I wanted, and we had a specific budget and deadline, which we did make.
Gail: When was the episode filmed? 
Susan:
The filming started on May 23rd and it finished on June 6th, so it was two weeks of non-stop craziness. I took the measurements and selected the rooms. It took a few weeks to solidify the design and coordinate the rest of the team. Design is 10% of what happened on the set, so it was very similar to interior design.
Gail: So there were not as many restrictions as you expected. 
Susan:
Exactly. There were no restrictions. Even with the budget—we had several wonderful vendors who donated a lot. Brenda did not have to pay anything. Obviously, I donated my time and a lot of my vendors donated their time, their trade, their skills, their products.
Gail: Tell me about your experience on the show. Give us a behind-the-scenes peek. 
Susan:
I absolutely loved it! I've done theater before — a lot of it - and this is totally different because you're walking around with cameras following you. It was so natural without scripts. It's all organic. 
Gail: How long did you have to complete the installation?
Susan:
We had two weeks to do the complete installation. On May 23rd, we arrived and Brenda stayed at a hotel for all the time we were in her house. We came in at 8:30 AM and filmed the walk-through of the space to document the 'Befores.' Then we started demolition. The final reveal was filmed on June 6th, and everything had to be completed the night before—so it was a quick turnaround. 
Gail: What was your inspiration for the design? 
Susan:
Brenda was the inspiration. I also pulled from my experience with my grandmother's breast cancer - that everything is just one day at a time.
I designed a mural of the sky at different times of the day. One wall was the sunrise, and above it, a midday sky, and on the other wall was the sunset. The mural was meant to remind Brenda why she's helping with her Hug Wraps - that each patient is living moment to moment. Obviously, organization was important. The built-ins were a big part of the design and I designed custom furniture for the space.
Brenda said recently, "Sometimes I just walk upstairs, open the door look into the room and stare because I can't believe it's mine!"
Gail: Do you have a website where readers can go to make a donation?
Susan: 
We have more photos on our blog. And, if the readers want to find out more about the episode including the resources we used, they can download our Kindle Book, "
An Interior Designer Behind The Scenes On A Reality TV Show.
" Please share, tweet and post this link on Facebook, and email your friends to download the book. Or, you can donate directly to
www.HugWraps.com
.
Brenda has a suggested price for her Hug Wraps, but she does not require people to purchase these. Sometimes callers say, "I want this for my daughter or my son or my husband, and we just can't afford this right now," and she will donate it to them. Brenda has put many monetary infusions from her own savings into her nonprofit to keep things going, and she is hoping that the show, when it airs, will help her rebuild her coffers. So yes, any donations are a blessing.
Be sure to watch George to the Rescue on NBC, October 6th at 10 AM Eastern.