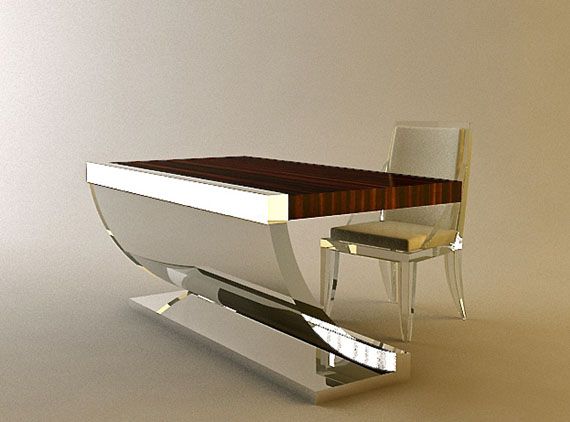 Home Decor:
Jonathan Franc is a new venture from designer John Bossone.
A fixture in the home décor arena for more than 25 years,
Jonathan Franc
marks Bossone's first foray into having his own collection. In the past, his designs have been featured in Elle Decor, Architectural Digest, Robb Report and displayed in the famous Kips Bay Decorators Showhouse. He also worked on the furniture for the MGM Grand in Macau.
Bossone has gained quite a reputation for his ability to fuse acrylic and wood without any visible joints. His ability to create acrylic that are carefully calculated by his in-house engineers has also been remarked upon and favored by the design community as well.

One of his most interesting pieces is a desk that features a clear acrylic curve. The base of the desk is formed from a 6" thick piece of acrylic. The curve was created through three rounds of heating and cooling from 60 degrees Celsius to 170 Celsius over a 24-hour period.

Jonathan Franc has a showroom at the Laguna Design Center and can also be found in showrooms throughout the country.