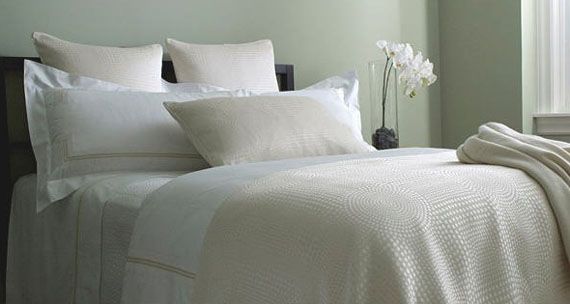 Home Decor:
Founded in 1860, Frette has a 150-year legacy of providing the finest in bedding and home decor to homes and
hotels
all over the world. Frette's Spring Summer 2010 collections are inspired by the rich
culture and art
found in the cities of Europe.
Frette's
artisans studied the works of 20th century artists, Sargent, Klimt, and Matisse, to create the new Venice, Vienna, and Aix collections. By bringing a contemporary execution to the traditional methods of textile design, Frette has managed to capture the subtleties of their brush strokes into intricate patterns and needlework on textiles.
Venice is influenced by American Impressionist, John Singer Sargent's favorite European city. Colors in the collection reflect shimmering waters, ranging from Verbena to Myrrh. Patterns range from the scales found on armors, to miniature pointillist dots. Rich metallic silks in lavender, silver and copper comprise luxurious bedclothes.

Vienna is inspired by the sensual works of symbolist Gustav Klimt. The collection is filled with reimagined floral patterns as well as shimmering hints of gold reflecting the gold leaf Klimt favored in his paintings.

The Aix collection is motivated by Fauvist, Henri Matisse. Located in Provence, the cultural heritage of the region is reflected by a color palette ranging from bright reds to pale greens used to portray the rich flora of the area.

Careful attention to detail and modern artistry make Frette a favorite for both luxury hotels and homeowners alike and the new Spring Summer collections are no exception.