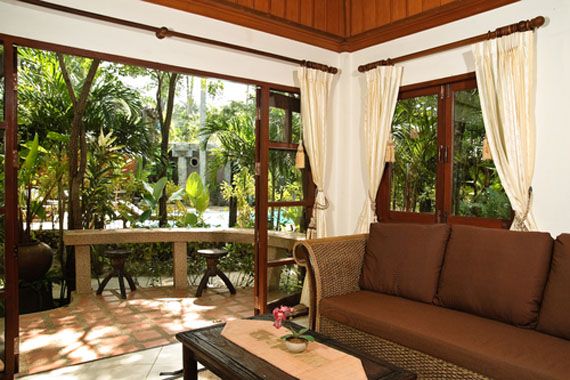 Home Decor:
Tropical themes are fun and cheerful, especially when the skies are gray and threatening snow. Whether you live in warmer climes or the frigid zone,
decorating
your utility room with a tropical theme is as easy as a trip to the local party store and your local home and garden center.
Let's start with the color.
Certain colors say "tropical" turquoise, pink, terra cotta, orange, yellow. If you want to give your utility room the instant feel of the tropics, choose a subdued shade of one of these colors for your walls.
The sun has a way of fading colors, so consider using a tone-on-tone treatment where you use a combination of a lighter and slightly darker shade of the same color. One technique that works really well is to purchase the lightest color on the color card. Pour half the paint into an empty plastic container (with a lid). Then add a half can of the untinted base paint. For example, if the store adds the color pigments to white paint, just add the same white paint to the paint left in the can. If they used a base tint, use that same base tint to "thin" your color.

Using a sea sponge to apply the second color adds an instant tropical texture. You could also pick up a stencil with tropical cutouts at the home and garden store. A seashell border might be a lot of fun!

Move on to the windows. Nothing says tropical more than bamboo and mosquito netting. Check the garden center or look online for bamboo blinds. These come in a variety of looks-flat bamboo of varying widths, 1/8" thick rounds, etc. Drape fine tulle in white, turquoise, pink, orange or yellow"the typical tropical colors"across the top of the blind. Or attach a ring at ceiling height directly over the center of the window and fan the tulle from this central point to the top of the blind.

If you can't find a size you like, here's another idea. As long as your windows aren't wider than 48 inches, you can bundle three bamboo stakes together to make a curtain rod. Bind with matching raffia to imitate the authentic banana twine used by farmers. Cut the bamboo to length with a hacksaw.

You can drape layers of tulle over the rod for a no-sew curtain that flutters in the breeze. Or purchase some colorful cotton (a Hawaiian print isn't necessary). If you want a pleated curtain make it twice as wide as the window. If you'd prefer a more flat tailored look, make the panel about 6 inches wider than the window. Add tabs to the top of the curtain, approximately 6 inches apart. The tabs should be loose enough to slide along the rod.

Now, it's time to make that trip to the party store. Head for the "Hawaiian" isle. Look for seashells to glue onto cupboard handles. Pick up a grass skirt to trim your top-loading washing machine. Pick up some silk flower leis. You can glue the lei to a series of magnets and mount it to the front of your clothes dryer. You can also combine a series of leis into a garland that you drape along the ceiling.

Add live plants. If you have the lighting to support it, add live plants. Not only will they add to the tropical feel, they will also improve the air quality of your home. The natural humidity from doing laundry will make them very happy. If you don't have a green thumb, stick with these real troopers-snake plants, spider plants, and pothos. They all forgive a lot of neglect! Snake plant is good for the floor, while the spider plant and pothos work best in a hanging pot.

Don't want to hassle with caring for plants? Then add silk versions.

Jessica Ackerman
Editor-in-Chief JC Report
JustLuxe Contributor