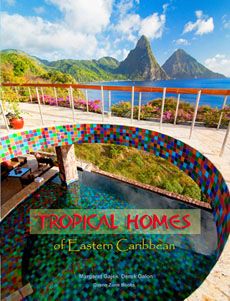 Home Decor:
Exploring the Incredible Tropical Homes of the Eastern Caribbean gives stay-at-home travelers a glimpse into the vibrant architecture of the Eastern
Caribbean
region, a realm that is seldom celebrated for its style.
The authors of the book, Derek Galon, an experienced art photographer from Europe, and Margaret Gajek, art historian, researcher and writer, have cobbled together a fresh approach to the region, giving inside glimpses into the stunning wonders of the Caribbean islands, large and small. Islands that make the book include the well known larger islands of Barbados, Grenada, and St. Lucia as well as the smaller islands of Bequia, and the privately-owned exclusive island of Mustique.
Both authors offer artistic looks complete with stunning photos of everything from historical treasures to modern gems. Featured homes include small, humble dwellings in fishing villages on the shores of the Caribbean, to heritage plantation houses, to fascinating designer homes, and multi-million-dollar mansions surrounded by sumptuous tropical gardens as well as a surprising modern boutique-hotel that defies all standards.

Breathtaking photographic detail and enlightening stories make the coffee table book a welcome accent to the home.