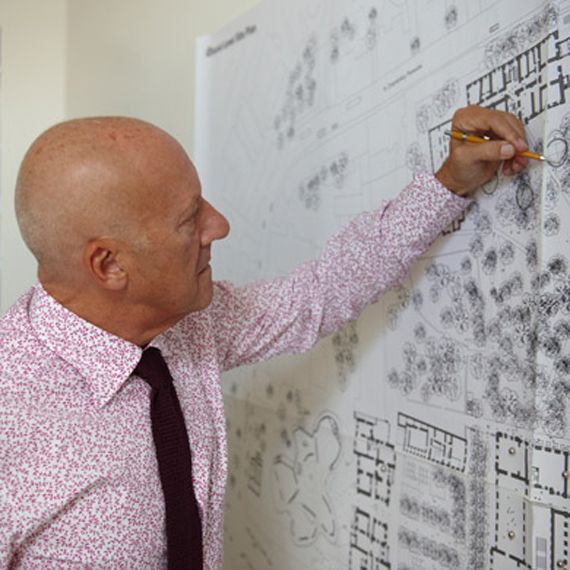 Photos Courtesy of Foster + Partners
Sir Norman Foster
Born:
1935, Manchester UK
Best Known For:
Millau Viaduct in France, 21st Pritzker Architect Prize Laureate
Sir Norman Foster — he was knighted in 1990 — is one of the world's most innovative and influential architectural minds, having first gained real fame in the early 1970s as the architect of the Willis Faber and Dumas headquarters in England. The founder and chairman of
Foster + Partners
, Foster has established himself as an authority of design, motivated by his passion for architectural exploration. Applauded for his artistic instinct, Foster seems endlessly flexible in his designs, creating buildings simultaneously for the present and future.
Born in a working class area of Manchester in 1935, Foster developed an interest in design and engineering at an early age, telling
Harvard Business Review
(HBR) that he used to spend "every spare minute wandering around buildings in the city." According to
BBC News
, the idea of transcending his blue-collar beginnings and moving on to university was initially unthinkable, but he made it happen. Taking his natural love for structures, he pursued an education at Manchester University School of Architecture and City Planning, graduating in 1961. He then won a Henry Fellowship to Yale University and earned a Master's Degree in Architecture.
Foster wasted zero time in kick-starting his career, cofounding Team 4 in 1963 and starting Foster Associates in 1967 (which eventually became Foster + Partners). Though he is no longer a university student, Foster still considers his daily life a learning process, telling HBR that he still studies buildings and cities in much the same way he did in architectural school. He also resists the label of a "high-tech" architect, telling BBC News that "since Stonehenge, architects have always been at the cutting edge of technology. And you can't separate technology from the humanistic and spiritual content of a building."
Founded in London, Foster + Partners is an international practice with offices in over twenty countries, gaining worldwide recognition in the early 1970s for their Willis Faber and Dumas building. Foster attributes the recognition to his firm's attention to the client, delivering a design that reinforced Willis' open structure and relaxed managerial policy. Though Willis had thousands of employees, Foster was attracted to the fact that the directors knew many of their employees by name and encouraged open dialogue at every level.
To line up with the company's family business-like feel, Foster + Partners designed a three-story building with escalators, a central atrium, and a heavy social aspect with a swimming pool, rooftop garden and restaurant, all meant to bring a democratic sense of unity. Foster believes that workplaces can function to break divisions, proud that his firm has "challenged stereotypes about white-collar and blue-collar staff; instead of separating them, we bring them together in what I call democratic pavilions."
Working on everything from private houses and product design to airports and cultural buildings, Foster + Partners has won over 620 distinct awards and citations for pioneering a sustainable approach to architecture (the most recent being the Architecture + Building Innovation Award), as well as over 100 international and national competitions.
Sensitive to location and culture, the firm combines the minds of architects and engineers to create design solutions for environmentally friendly structures. Taking a holistic approach, Foster + Partners crafts buildings that will support communities for years to come. Sustainable design isn't just a fashionable stylistic choice for Foster + Partners, it's a necessity that's rooted deep within the firm's value system. "As an architect you design for the present, with an awareness of the past, for a future which is essentially unknown," says Foster while opening his 2007
DLD
Conference talk.
Of his personal honors, Foster was awarded the Royal Institute of British Architects (RIBA) Royal Gold Medal in 1983, the RIBA Trustees Medan in 1990 for the Willis Faber Dumas building, the American Institute of Architects Gold Medal in 1994, and was honored with a Life Peerage in 1999, making him The Lord Foster of Thames Bank. Foster also won the 21st Pritzker Architect Prize Laureate in 1999. With countless awards to his name, Foster remains shy regarding his success, always pointing to the entire team behind Foster + Partners as almost more deserving of the recognition.
Architect and Critic Joseph Giovannini wrote in an essay about Foster that "whether in projects built for small English towns or outposts of the global economy, the technological imagery is so consistent that his approach amounts to both an architectural signature and a design paradigm." He takes time to note Foster's rejection of a standard conceptual format, choosing to instead push the boundaries of architecture to create what Foster calls "the social dimension" and also points out how he radically changed the high-rise with the Hong Kong and Shanghai Banking Corporation building in 1986.
With projects ranging from museums to apartment buildings, Foster has earned every bit of respect thrown his way. For over 35 years he has dependably delivered beautifully efficient designs that add to the area's character. With a deep social responsibility and flexibility at the heart of the designs, Foster takes each piece into consideration when designing, never getting caught up in the endgame. By integrating humanistic ideals within his structures, creating representations of the cultural period they were designed in, Foster has made himself wholly unique and indispensable to the architectural world.