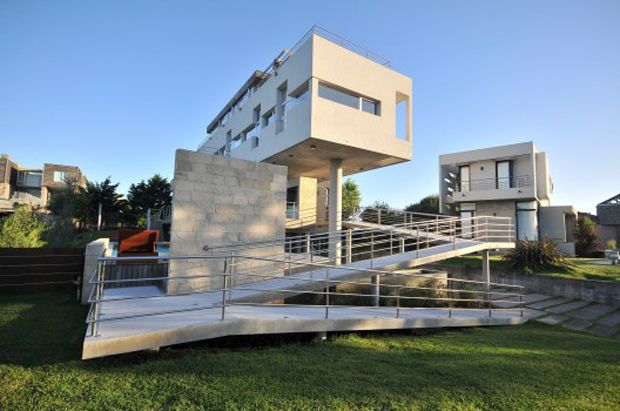 Photos Courtesy of Diego Medina
A marvel of contemporary design, enter the world of the
Wanka House.
Located in the beach resort town of Cariló, Buenos Aires, the nearly 11,000-square-foot home was originally conceived as a seaside vacation home. The standout design of the sleeping quarters evokes a periscope, suspended in the sky and giving an impression of weightlessness (resulting in 360-degree views).
Set a short drive from sea and surrounded by grassy landscape, the Wanka House balances the pristine tranquility of the exterior environment with a playful homage to concepts of fluidity within the design of the home. Featuring dramatic volume, aesthetically the house seeks to eliminate boundaries between interior and exterior, interacting with its surrounding environment on all levels, such as the aforementioned bedrooms that are housed by a white "flying" box positioned to float over the front main structure. The home's top tier includes the intimate terrace of the dining room, and below it you'll find the fire pit and grill area.
In keeping with an ethos of seclusion and relaxation, the home is situated towards the back of the plot, architecturally offering guests an escape from the chaotic stress of the big city nearby before even entering the front door. The house sits overlooking the sea to the east, allowing you to soak in the marine breeze while taking in the view. With a forest to the west and a city skyline to the north, you'll have plenty to look at if the waves start to bore you.
Completed in 2011 by Argentine design team
Galera Estudio
as a holiday space for gathering away from the city, the home is inspired by the surrounding landscape and explores natural elements and raw textures. Connectivity towards nature was a key design concept, using rock, timber, and concrete to construct the cornerstones of the home.