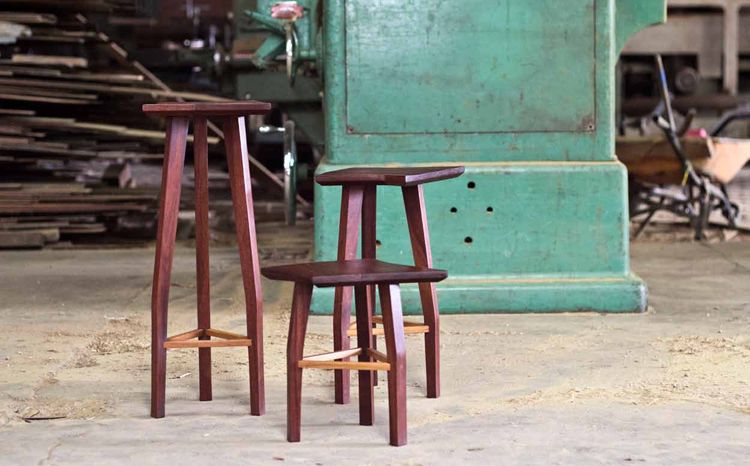 Photos Courtesy of AP Furniture
Aaron Poritz — an American-born designer who divides his time between New York City, Managua and Nicaragua — is the creative mind behind
AP Furniture
, which he established last year. Specializing in responsibly-sourced hardwood furniture pieces, AP strives to blend a traditional approach to craftsmanship with contemporary designs that reflect today's trends. Though AP is still very new on the scene, with the first collection debuting last month in NYC, their finished pieces show off a very mature design aesthetic that is sure to fit in with any living space.
While Poritz was studying architecture and sustainability at California College of the Arts he designed the award-winning Refract House for the 2009 Solar Decathlon — which got him a job with Morris Adjmi Architects upon graduating. He worked there for a couple years before making the move to Central America to work with Equitable Origin on a sustainable gas station model. During his travels through Nicaragua, Poritz connected with a wood mill that was collecting woods from the North Atlantic Autonomous Region on the Caribbean coast (where a hurricane tore down thousands of hardwood trees in 2007), giving him a way to collect rare hardwoods in a sustainable and eco-friendly manner and thus, inspiring his own furniture collection.
The entire collection, which took three months to complete, is made either from trees felled in hurricanes or trees harvested from coffee and teak plantations. What's even neater is that Poritz tells each buyer where the wood from their purchased piece came from, hoping that it will build a deep connection between the consumer and furniture. The wood options are nogal, frijolillo, teak, nanciton, guapinol and cedro macho.
"When I design a piece of furniture, I consider many elements, from scale and proportion, to materiality and tactility, to how a person physically interacts with the object. As in architecture, I like to explore the structural capacity of the materials I use," says Poritz. "I design pieces that limit waste while expressing their strength and maintaining structural integrity."
Included in the collection are a number of chairs, beds, tables, and desks — there's even a vintage-inspired lunch box. Prices range from $220 for the Alba Stools to $3,095 for the Sidney Table.