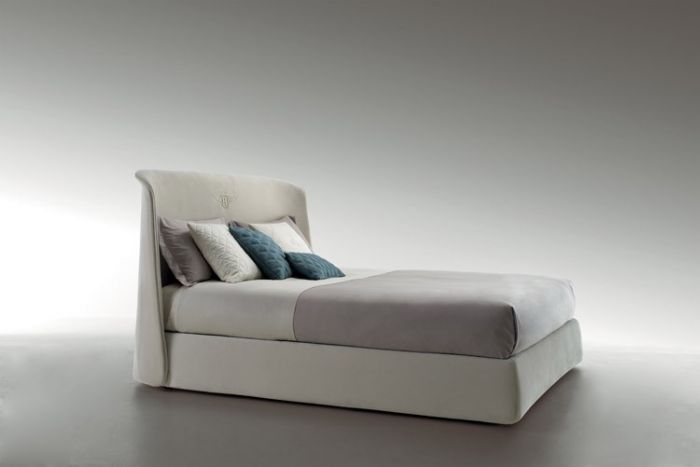 Photos Courtesy of Bentley
If you've ever sat inside a Bentley, you'll know the feeling of not wanting to get out again. But as accommodating as they can be, sooner or later you're going to need a bit more space. Fortunately the British automaker also offers a range of furniture to make your home feel like the interior of a Continental or Mulsanne.
The latest additions to the Bentley Home Collection are crafted to the same exacting standards and using the same wood veneers and leather hides as you'll find inside one of the company's famous luxury automobiles. The new collection includes the Richmond line of sofas and armchairs, covered in either burr walnut or quilted leather, upholstered in leather, linen or cashmere velvet and trimmed in braided leather. The Madeley & Kendal ovoid table and chairs are crafted from curved wood panels to form a trapezoidal shape, trimmed in leather and standing on gunmetal-finish steel feet. The Sherbourne & Kingsbridge cabinets can be ordered with wood veneer fronts or either smooth or quilted leather, with lacquered wood interiors and crystal shelves made by Club House Italia. The Harlow coffee table stands on a gunmetal steel structure and topped in either onyx or leather trim.
Finally the Canterbury bed takes the Bentley aesthetic into the bedroom with a bedframe and curvaceous headboard finished in either leather or textile, with a duvet cover made of Fibra di Legno using soft wood pulp. All the items in the collection are finished in muted tones of ivory, cream, beige and taupe, however — as with Bentley's line of high-end automobiles — special orders can also be accommodated.
Of course the new Bentley Home collection doesn't represent the only products the British luxury brand offers beside its own upscale automobiles. Through various partnerships, Bentley offers an extensive line of watches, pens, handbags, clothing, accessories, perfumes and more. It has furnished hotels, clubhouses, barbershops, and even a double-decker London Routemaster bus. Where the crew from Crewe still finds time to design and build cars, then, is another question, but for those enamored of the brand, there are that many more ways to express their enthusiasm and taste for fine British craftsmanship.