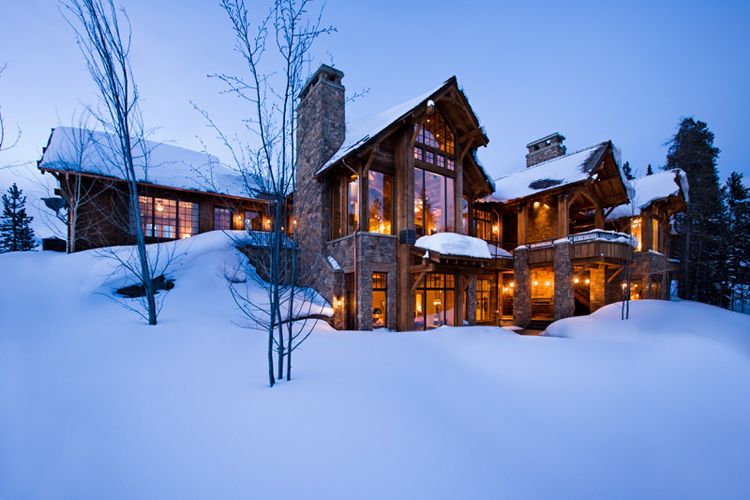 Photos Courtesy of Roger Wade Studio/Locati Architects
The Beartrap Residence in Big Sky, Montana is more of a "human trap" than anything else, because once you set eyes on it, you're going to want to move in immediately. Designed by Locati Architects, this mountain estate sits in the Yellowstone Club and highlights the type of rugged architecture Nick Offerman's beard dreams of.
The home was crafted in response to the client's need for an escape from city life, wanting a vacation home where their family could relax and enjoy the outdoors. Complete with reclaimed Douglas fir timbers and Montana moss rocks, the finished product was built on a nearly 8,500-foot-high slope, allowing for fantastic views of the surrounding mountainous landscape.
"Our intention was to create a home that was understated yet inviting from the exterior, so that the surrounding views would be temporarily lost, only to be rediscovered in grand fashion upon entering the house," says Locati.
Much of the outside is seen through glass panes, offering unobstructed views from every main room in the home — especially the dining room. The interior was designed in partnership with Harker Design and pairs the rustic vibe with pops of vibrant colors, adding a fun modern twist to the traditional Western mountain vacation retreat. You can see this in the geometric rug featured in the living area, the unique red chandelier in the foyer, and the interesting red blocked ceiling found in the kitchen.
A couple of my personal favorite touches is the children's bedroom, full of wood bunk beds, and the huge shower in the master bathroom — not to mention the updated claw-foot tub.