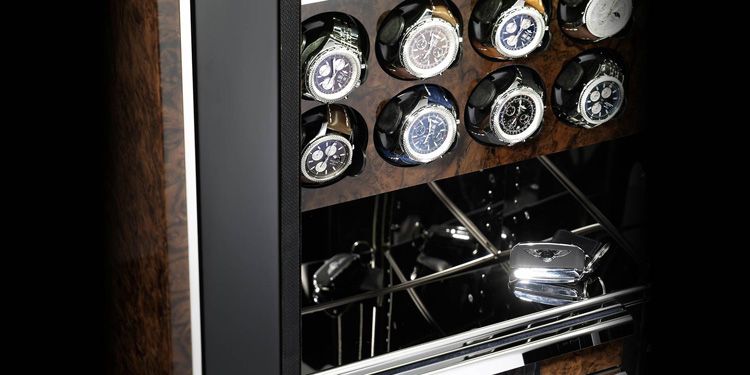 Photos Courtesy of Stockinger
When we hear the word safe, two things come to mind: a dark plain metal box, and a warm and fuzzy feeling of contentment. The former can house the most precious of our personal and beloved items, from family heirlooms to that pricey diamond watch you're planning on surprising your loved one with. Some may trust bank vaults, but others are seeking options a little closer to home. Luckily, Stockinger has just released its Bentley line, which offers unparalleled luxury, along with top-of-the line security for your valuables.
With a patented locking system, these Stockinger safes offer peace of mind, while being pretty easy to use - for the owner, of course. They use a bolt mechanism locking system, which features four additional pin locks that add to the security, as well as an emergency bolt that will engage if tried to be open by force.
Oftentimes safes are built with concrete, making them absurdly heavy, but these are made using hard polymers. The multi-wall construction makes them notably lighter than their contemporaries without losing security. According to Stockinger, these boxes are literally impenetrable and are among a select few products that receive the VDS IV security rating, giving them the distinct honor of being qualified to house the most valuable of your possessions.
Slim-lined and sleek, these safes can be customized to satisfy even the most picky of requests - from literally whatever exterior color you want to the suede color within to the nameplate engraving on the inside of the door.
Of course, you can't have a Bentley line without their trademark "B," which you'll find emblazoned on the Bentley Motors handle made from finely polished brass. For an exact price you have to go through the customization process and send in your request, but you can expect to pay around $170k for one of these luxury offerings.