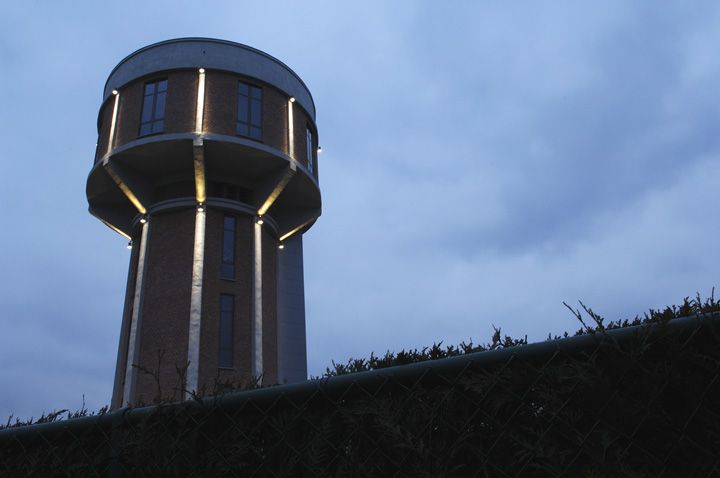 Photos Courtesy of Bham Design Studio
I've never looked at a water tower and thought, "Wow, I would love to live up there," but Bham Design Studio has changed that. Found in Steenokkerzeel, Belgium, Chateau d'Eau is a 100-foot tall water tower that was originally built between 1938 and 1941. With a long history, including being used by the Nazis as a watchtower during World War II, the structure was in use until the 1990s. In 2004, the Belgian Royal committee for National Heritage Sites requested the building be preserved and renovated. This is where Bham steps in, transforming the tower into a six-story luxury home that I'm dying to live in.
The exterior was brought back to its original state, with the damaged concrete columns repaired and the bricks replaced. The windows in the top floor were enlarged to maximize views, while the existing concrete elements within are all preserved (like the ceilings and water basin).
Instead of trying to force multiple spaces onto each floor, the design firm chose to dedicate each level to a single space. The ground level features a double garage and the main entrance. The first floor is reserved for storage and utility rooms, while the second floor is where you'll find the guest room (with its own bathroom) and office. The third level is made up entirely of a luxury bathroom, including a 14.8-foot shower centerpiece surrounded by black tinted glass walls. The circular master bedroom takes up the fourth floor, with a dome ceiling and a revolving stair case leading to the upper dressing area.
The living room, kitchen and dining room are found on the fifth floor, giving views of airplanes landing at the national airport nearby. You also find a resting room, library, cloak room and cat house on this floor — yes, a dedicated cat house! A steel bridge leads you up to the panoramic terrace at the top level, featuring wood flooring and an outdoor shower.
A couple lives in the tower, but one or two times a month part of the building is rented for exclusive events (like workshops and high profile company client meetings). Every room is equipped with the latest IT technology, domotics, and the ability to install projectors nearly anywhere on the top floor, making this single-family home pretty much perfect.