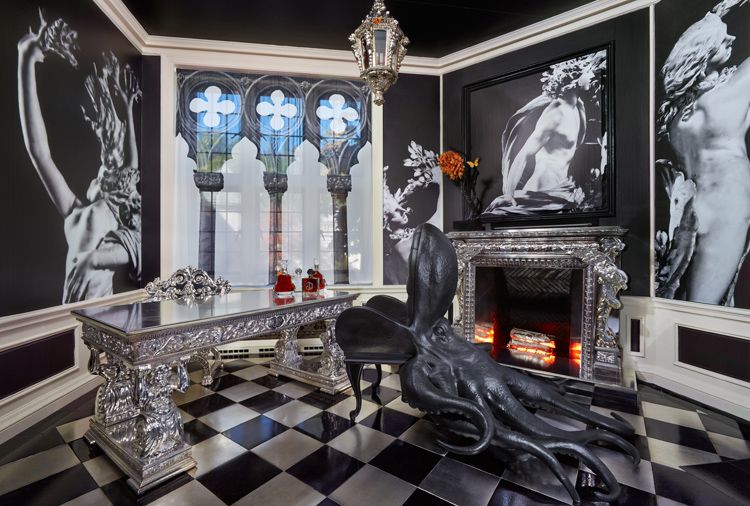 Photos Credit: DavidLenaPhoto.com
L'Esperance Design is one of those companies that can give you that over-the-top luxury interior design scheme you've been longing for ever since you saw Behind the Candelabra. From the $22M restoration of the Leland Stanford Mansion to their reimagining of the Grand Entry and Gentleman's Study at Greystone Mansion in Beverly Hills for the Design Showcase this past November, L'Esperance has gotten the chance to wow everyone in the know.
Some of the brand's best was brought out for Greystone Mansion, including their wall coverings. Using new digital printing technologies, L'Esperance creates custom fabric prints that are then fit into luxury homes, hotels, and clubs. They used this for both of their rooms at Greystone, the Grand Entry getting bright colors while the Gentleman's Study was treated with a mostly grayscale palette.
The Chrome Collection features the limited edition Griffin Sofa, which is signed and numbered. Reproductions of an original 19th century hand carved sofa, these are finished in chrome and are sure to instantly class up any living space. The Griffin Fireplace matches the sofa, with the same finish and carved griffin details — also signed and numbered, of course. If you're feeling like an extra from Game of Thrones, you definitely need to add the Griffin Lion Chair, Table Lamp, and Chrome Mountain Man Desk.
Their Animal Chair Collection by Máximo Riera may be the weirdest looking furniture you've seen in a while, but they're actually the ones I want most. Wanting to stay faithful to the animal's physique and natural movements, Riera built an internal frame to make the desired structural posture possible. Intending to place mankind in harmony with nature, these chairs aren't meant for mere decoration, even though the kraken above may look it.
"The main reason I chose to create a chair is because it is an everyday object, something taken as common and banal in our lives. Whilst considering the chair's basic functionality, I also wanted to bring it alive, make it more present and create a stronger link between the spectator, the piece and the surrounding space," explains Riera.
So far the collection features an octopus, walrus, rhino, whale, toad, beetle and an elephant — all in black with leather seats.
For inquiries, contact L'Esperance directly through their website.