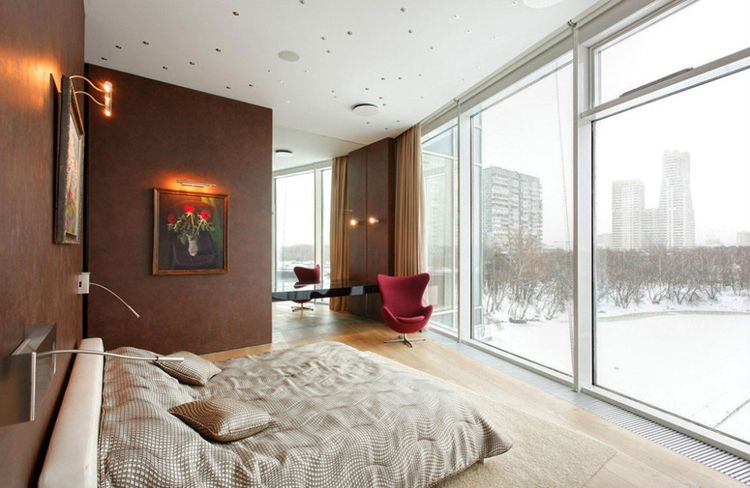 Photos Courtesy of Archduet
We love a good bathtub view and sometimes, that one detail can lift a home up from great to amazing. Even better is when the bedroom gets an equally stunning vista to gaze upon, and this Moscow home does both seemingly effortlessly.
Called Stonehenge, this home was designed by Russian firm Archduet and sits right on the Khimki Reservoir. The large apartment is modern and elegant, with wide open spaces and clean lines unimpeded by needless accessories.
The main living areas are arranged without anything separating them, allowing the mostly glass exterior walls to open the river views to the owners. However, if some barriers are ever wanted, Archduet installed floor-to-ceiling curtains throughout the living room, which can be drawn to create hideaways. Or if you throw a party, make one of the sittings areas your own personal VIP room by enclosing it entirely. The ceilings feature glittering lights that mimic the randomness of stars, giving the entire residence a fun and youthful feel.
The bathroom and bedroom is where it's at, with the bathtub taking full advantage of the reservoir outside. Alternatively, the bedroom seems to look out upon a snowy landscape, vast and open. Sure, there are curtains that will block the light if need be, but I don't think I would mind waking with the sun if that view is what was waiting for me.