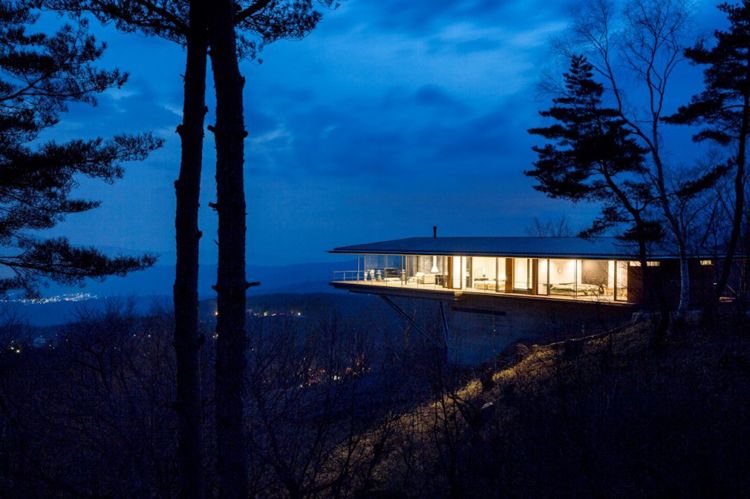 Photos Courtesy of Kidosaki Architects Studio
When it comes to my dream house, I want something overlooking the ocean or overlooking the mountains — either way, it has to be remote. Though I live in a big city now, I grew up in a small town and once you've experienced deathly silent nights and skies lit up by stars, you definitely miss it. Kidosaki Architects Studio seem to know exactly what I want, because their luxury home on the edge of the Yatsugatake Mountains fits the dream perfectly.
In Nagano, Japan, this house is literally suspended over the sloping mountainous landscape, with two diagonal bracing steel stilts helping to support the weight. According to the architects, the client had spent years looking for the perfect spot to build their home and when this specific piece was discovered, the search immediately ended.
When Kidosaki first visited the site, their impression was "that this untapped and expansive nature must be embraced into the interior to the greatest extent possible." The residence was therefore arranged in a way that would take advantage of the views without impeding unnecessarily on mother nature.
"The house floats into the midst of [the] glorious natural surroundings. With this overhanging structure, the breeze of the mountain plateau flows through the interior, making you coexistent with nature."
The contemporary interior is pretty nice too, with panoramic views and an open floor plan. The living spaces are all towards the overhang portion, which opens the mountains up via the floor-to-ceiling windows. The firm promises that the other rooms have equally as stunning views, all offering different angles of the surrounding landscape.
This home isn't for sale, unfortunately, but it is a fantastic example of the kind of work Kidosaki Architects Studio produces. Sure, you may have to move to Japan to hire them, but I don't consider that a problem at all.