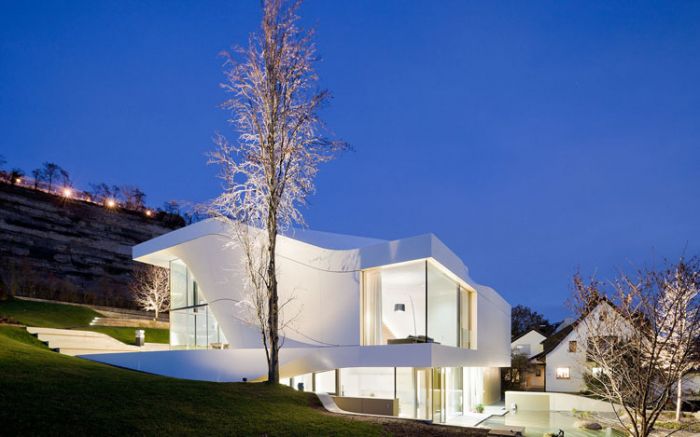 Photos Credit: Iwan Baan/UNStudio
Haus am Weinberg in Stuttgart, Germany is a great example of how a stark white, minimalist home can be set apart from all the other similar designs out there. Designed by UNStudio, this residential home was created around a central "twist" that supports the main staircase and guides the building's flow. With the exterior being predominantly angular, except for one wave-like shape, one would never guess what hides within this luxury home.
The house sits in a small suburban neighborhood, which used to be all rural countryside. On one side, Haus am Weinberg gives "pastoral views of the stepped terraces of an ancient hillside vineyard" and views of the city on the other.
According to UNStudio, the twist with organizes the inner circulation, organization of the views and the space distribution. "The direction of each curve is determined by a set of diagonal movements. Whilst the program distribution follows the path of the sun, each evolution in the twist leads to moments in which views to the outside become an integral experience of the interior." Due to the way the home was made, the structure is supported by the elevator shaft, one inner column and two pillars — which allows open spaces without any obstructing architectural elements.
One of the most impressive areas is definitely the dining space. Thanks to the double-height, glazed windows enclosing it, one gets amazing views towards the north-west and the south-west. Actually, all four corners of the home feature floor-to-ceiling windows and expansive scenery. The allowance of natural light is helped by the usage of muted tones within, like the white clay stucco walls sprinkled with fragments of reflective stone, and the natural oak flooring.