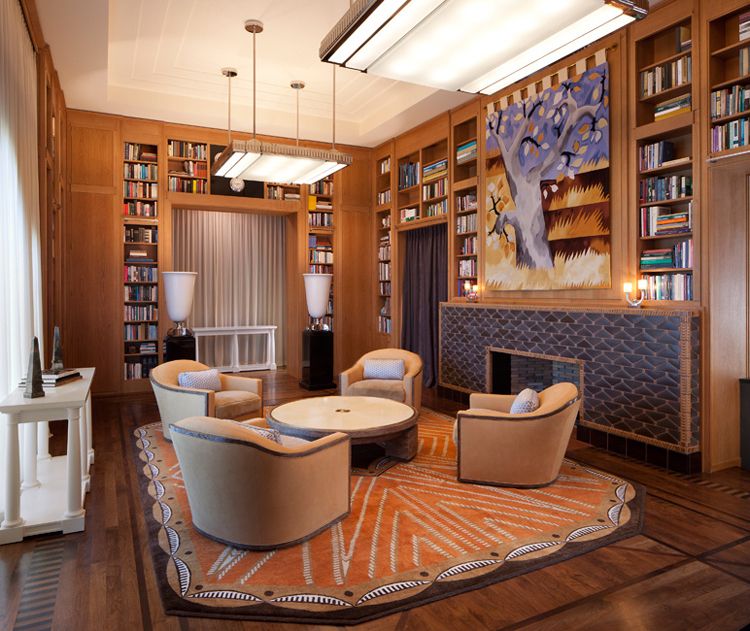 Photos Courtesy of Christian Mussy
If you reside in a custom-designed estate situated above A-list celebrities in the hills of Bel Air, there's a good chance your home could garner a bit of media attention on occasion. If world-renowned interior designer and fabricator, Christian Mussy of Paris, recreated your mansion, then it's a guarantee. Recently, media, designers, builders and architects were invited to roam the grounds of Christian Mussy's masterpiece, a private Bel Air estate called La Maison des Nuages and we were privileged to be among them.
Originally built in the Spanish Colonial Revival style, the owners of La Maison des Nuages requested that Mussy recreate their home to reflect the Parisian elegance of the 30s and 40s. Using cast bronze and ceramic inset panels, the 800-pound front door is described as "the transition from the home's exterior style to the unexpected 'French Moderne' style in the home's interior." Mussy and team masterly customized each element of design in the home, from the dramatic entry hall and the woven wool carpets to the wall sconces inspired by the Guggenheim Museum.
Once inside, guests are first led through the dramatic dining room inspired by all four seasons.The idea was to create a "Japanese-inspired interior garden for the theatre aspect of entertaining," explained Mussy. Lanterns along the ceiling give the room a warm glow, while lacquered table and chairs made in Paris present a sophisticated edge.
Heavy double-faced sliding doors welcome guests into a caramel-colored study that utilizes Palm Wood to give the walls a unique look of animal hide. Most widely used in Paris during the 1930s, Palm Wood is art in itself and is notoriously difficult to work with. Adjacent to the Art Deco-inspired study, a library revolves around the family's book collection. A handcrafted wall map made in Paris documents all of the sites along the Mediterranean where the mansion's family visited. The main gallery floods with natural light and opens to the pool and grounds overlooking Los Angeles.
The kitchen automatically inspires cooking and a communal imagination. A big marble island in the center of the space is ideal for a casual gathering while a meal is prepared. Windows surrounding a cozy round table let in streams of natural light, brightening the blue-gray cabinetry and sleek stainless steel appliances. Top top off this impressive home, the rustic French wine cellar is the result of the collaboration between Mussy and California-based architect Kevin A. Clark.