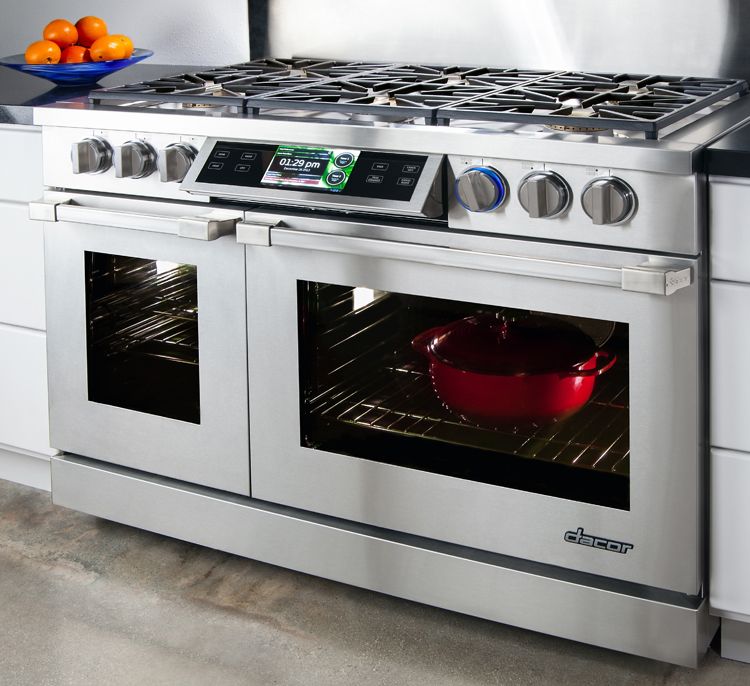 Photos Courtesy of Dacor
Considering everything in the home is getting smarter nowadays, it was only a matter of time before our cooking ranges got a boost. During CES last week, Dacor unveiled their Discovery iQ 48" Dual-Fuel Range as the "world's first smart professional cooking range for the home."
Featuring an integrated, wirelessly-connected tablet, this range allows you to watch cooking videos and download recipes without having to leave the stove. Plus, its Dacor Guide is pre-programmed with a variety of dishes so you don't have to guess as to the cook time. Once the food is done, the appliance switches to a warming setting and texts you. Plus, thanks to the app, you can control the iQ from anywhere as long as you have your smart phone.
"With the Discovery iQ 48" Dual-Fuel Range, we are utilizing smart technology to empower the passionate cook," states Dacor President Steve Joseph. "The new range combines the cooking precision our customers have enjoyed for nearly 50 years with a first-of-its-kind Dacor Cooking App and iQ Controller, providing a convenient, connected cooking experience."
The iQ has a gas cooktop (giving heat control through brass burners) and two electric ovens with 10 cooking modes (including Pure Convection, Pure Convection Sear, Convection Bake and Roast, Surround Bake, Bake, Broil, Max Broil, and Roast). Once it gets dirty — which it will, because come on, cooking is messy — the GreenClean Steam Technology will take care of light build-up in only 30 minutes without needing high heat or chemical cleaners.
The range will be available in June for $11,999.