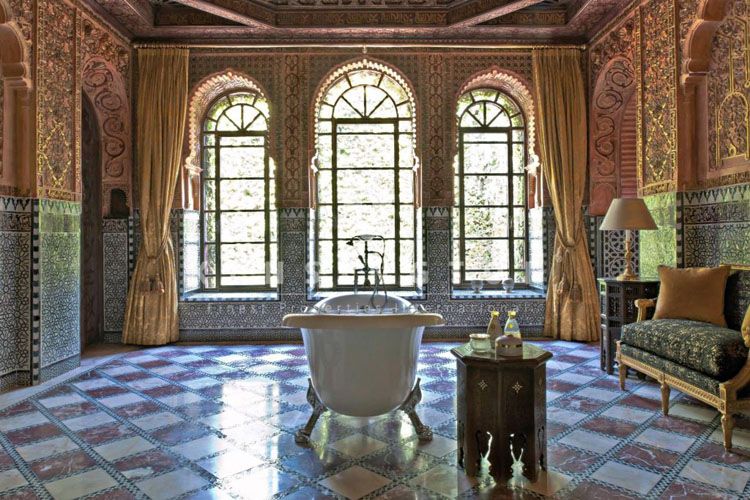 Photos Courtesy of Kensington Properties
One of the world's most spectacular properties, a perfect replica of Spain's famed Alhambra palace built on 11 acres in Marrakech, has been listed for sale via an affiliate of Christie's International Real Estate for about $75M. Comprising nearly 60,000-square-feet with a total of eight bedrooms and baths, the Moroccan estate is straight out of a fairytale.
The owners discovered an old book about the Alhambra in a London antique shop, spurning them to learn all about the 9th century fortress and palace inhabited by several kings that is now a UNESCO World Heritage site. The book even came complete with blueprints. They acquired an 11-acre palm grove in Marrakech and set out to recreate the royal residence.
It took over 1,300 craftsman three full years to make the dream come true, with incredibly opulent mosaics, carvings, stonework and gilding. Every room boasts museum-quality examples of zellige, which is the terra cotta tilework covered with enamel that distinguishes Moroccan dwellings. The architecture and landscaping was so artfully done that in a few years, after the foliage began to mature, the brand new palace looked as if it had been there for centuries. The lush landscaping includes stately palms, rose, orange and cactus gardens, ornamental lakes, marble fountains, and a bamboo forest. This is one villa that is truly fit for a king.