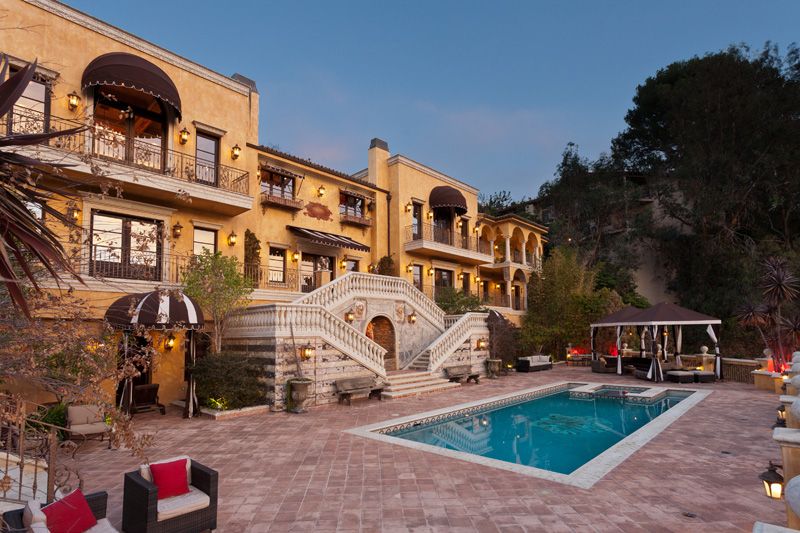 Photos Courtesy of Joe Babajian
The Villa Fiona is probably is as close as you can get to living in Italy, without actually moving there. Found at 2321 Castilian Drive in Los Angeles, this 9,000-square-foot estate is definitely a shining example of extravagance — Ru Paul , Ginger Spice, Blake Shelton and Miranda Lambert even lived there for a time — and is full of custom-made fixtures and imported materials straight from Italy. Plus, with all of the original frescos, you may feel like you're actually living in the Vatican.
"The best feature of the house depends on the time of day," says Joe Babajian, the property's listing agent. "Each area is uniquely special and depends on how you feel at any time. The house comes alive with lighting at night and the feeling is very peaceful. There's no way to get bored simply observing the home and décor."
On the market for $8.3 million, the entire five bedroom, seven bath villa was extensively painted with original works by Florentine painter Antonio D'Atellis (he was also one of the restorers of the Vatican, so no big deal). According to Babajian, D'Atellis and three of his assistants stayed at the villa for six months after it was built, because the owner wanted them to really get a feel for the blank canvas. The finished pieces were painted out of pure inspiration at the time.
The home's design was intended for entertaining, which can be seen in the use of space, and every room has access to an outdoor patio or balcony. While each bedroom has its own en suite bathroom, the master suite is definitely the most impressive room. Sure, there's a fireplace, large soaking tub, duel shower, and his and her bathrooms, but the ceiling's mural is really what demands attention first and foremost — who wouldn't want to fall asleep with that above you?
Villa Fiona also has an entire floor dedicated to entertaining large groups of people, with a theater/screening room, an outdoor bar and BBQ, and over 2,000 square feet of outdoor patios and terraces.