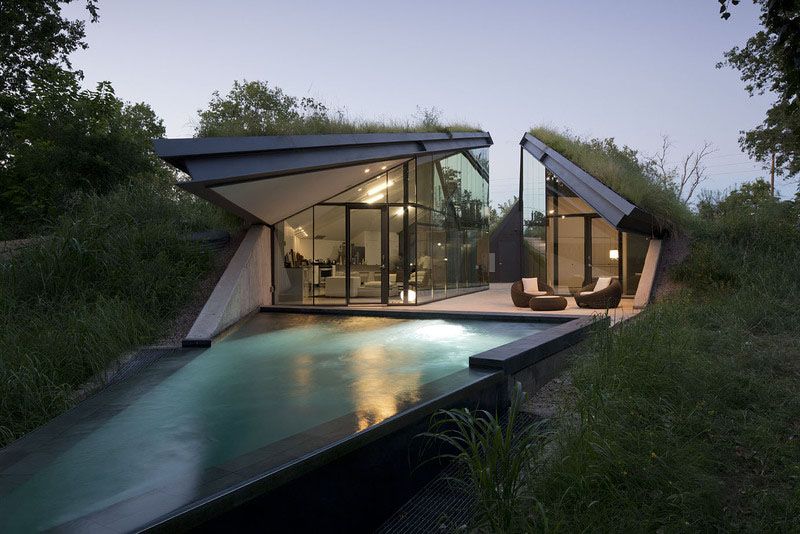 Photos Courtesy of Bercy Chen Studio LP
There are quite few of us here at JustLuxe who would jump at the chance to live in J.R.R. Tolkien's dreamt-up Shire, it's not a secret, and that's exactly what the Edgeland House in Austin, Texas made me think of. Designed by Bercy Chen Studio LP, this unique home is actually a reinterpretation of the Native American Pit House — which is designed sunken into the ground, taking advantage of the earth's surface to maintain temperature all year round. According to the design firm, the pit house is one of the oldest "housing typologies in North America," so maybe that's where the UK-born Tolkien found some inspiration for Bilbo's home.
Built on a rehabilitated brownfield site (which is land that was once used for industrial means), the home's roof is completely covered in grass, keeping the structure hidden entirely from certain angles. The home extends seven feet below and is broken into two sections (encased by glass), with one side holding the kitchen and living room and the other reserved for the two bedrooms and bathrooms. In order to pass from one to the other, you have to step outside into a middle passageway (which is where the triangular pool can be found).
"Such an architectural setting presents an opportunity for maximum energy efficiency when combined with high performance systems such as the integrated hydronic HVAC system." The system uses hydronic heating and cooling, geothermal heat exchange, phase-thermal heat storage, and of course the green roof, for energy efficiency.
Considering the lot was once used for man-made machines, Bercy Chen Studio designed the Edgeland House as a way to heal the land, "ameliorating the scars of the site's industrial past." It works to show the connection between nature and mankind, proving that we can easily live in harmony with Mother Nature if we so choose to.
"With entries from over 100 countries, Edgeland House has been selected as a Finalist in the 2014 Architizer A+ Award, presented by The Wall Street Journal, for the Plus Categories | Architecture +Sustainability: category," states Bery Chen Studio's Facebook page. If you want to help them win, hurry up because public voting closes tomorrow, March 21!