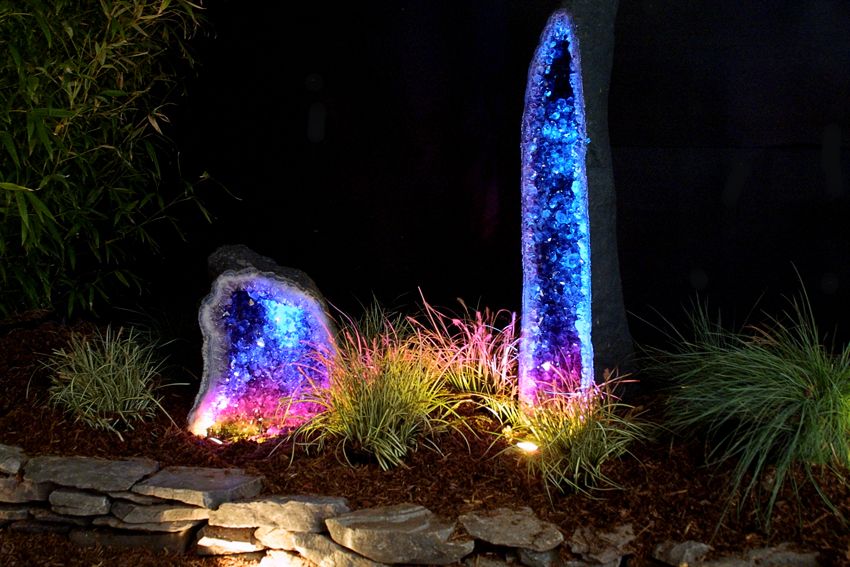 Photos Courtesy of Opulent Luxuries
Semi-precious gemstones are constantly used in jewelry designs, but it's not often that we see them dedicated to home décor and landscape in stand-out ways. Bespoke company Opulent Luxuries, founded by Jeff Rutstein, sources some of the world's finest A/A+ gemstones found in secluded regions of Brazil and custom creates pretty much anything you could ever ask for. While they certainly make some neat one-of-a-kind sculptural pieces for inside the home, we especially love the work they do outside.
Having grown up with a professor of geology as a father, it's no surprise that Rutstein (who has a background in professional sports and entertainment marketing) has an eye for stones.
"The complexity of the evolution of our gemstones is astounding, over 200 million years in the making, they were formed from a series of catastrophic geological conditions," he says. "Each design has its own unique signature of inclusions and fractures, like diamonds. Ironically, these gemstones are as hard/durable as granite (grading hardness of seven — with diamonds at 10). Our clients choose their desired gemstone which is then extracted in Brazil from what we call 'the rough,' everything is handcrafted by highly skilled, precision artisans."
The company focuses primarily on amethyst and quartz when it comes to exterior designs, with a team of landscape architects who know how to enhance an ambience with large-scale geodes. If you have a natural-looking swimming pool design, with a grotto and maybe even a waterfall, definitely consider a seemingly simple piled arrangement. It looks as if the gemstones appeared organically and with the right lighting, can easily look like a Hollywood movie set.
Liking to work backwards, Opulent Luxuries will always first chat with you about your overall vision (whether it's for your yard or a wet bar for your home for example). They'll ask about what type of gemstones you want to use, what feeling you want to evoke, and what your budget is like. From there, they will figure out a price range that could be anywhere from "several thousands to six figures based on the size and complexity of the work and design."
Remember, everything is customized for you, so even if you really like something in a photo, change it up a bit and make it uniquely your own!