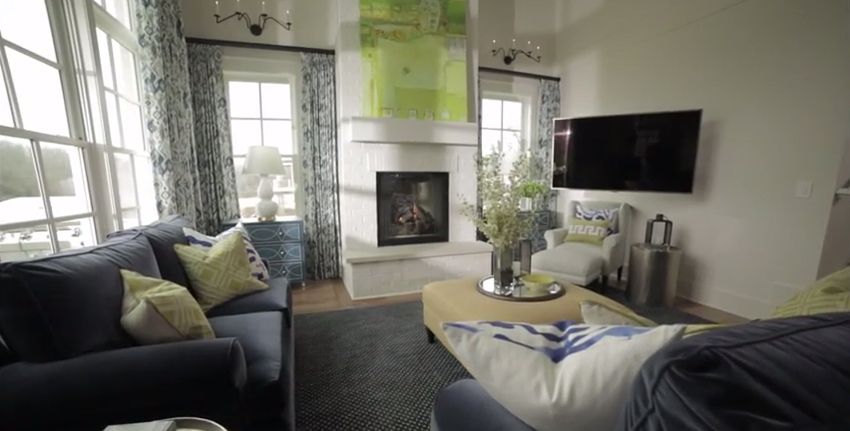 Photos Courtesy of Scripps Networks, LLC.
The only thing better than owning a brand new, fully-furnished, high-tech, state-of-the-art family residence in Nashville, Tennessee, is getting one for free and having it star in its own TV show. HGTV has put out a virtual welcome mat by inviting the world to enter its annual dream giveaway and to tour the 2014 Smart Home in an online portfolio. The property is part of a grand prize package valued at over $1 million that will be awarded this summer — just in time to put your old shack on the market during the prime selling season. In addition to the luxury house and everything inside, the prize package also includes a 2014 Lincoln MKZ Hybrid and $100,000 (that's enough to stock the butler's pantry and even hire an actual butler).
The charming, English cottage-style residence is located in the premier Duncanwood Reserve neighborhood of Green Hills, just 15 minutes from downtown. With three bedrooms and four and a half baths, the house features technology that will give the future owner better control over energy use, security features, interior climate, and lighting.
The property was conceived by P. Shea | Design and constructed by Carbine & Associates. "With all the excitement of a bustling city combined with easy access to rolling green hills and lush natural beauty, Nashville is on the cutting edge for what 'smart living' means today," says Jack Thomasson, HGTV professional house planner. And so the Smart Home was built to meet the standards of the Consumer Electronics Association's TechHome Rating System. The house is also eco-wise, having earned a Silver Level certification from the National Green Building Standard.
Interior designer Linda Woodrum wanted to avoid the use of expected materials and styles, so she took a contemporary route when selecting materials, art and furnishings. "This is a traditional home and we wanted to give it something that wasn't traditional," she says. Rustic timber elements accent the open kitchen area, where you'll find a free floating table that stands in for a dining table and a kitchen island. The living room has high vaulted ceilings and a bank of windows, offering views of protected wetlands, while wraparound seating dominates the porch outside.
An electronic pet door allows secure entry for four-legged residents, while several security cameras throughout the structure sends live feed to your smartphone, tablet, or computer. The front door can even be locked and unlocked via the homeowner's internet-enabled device. The basement-level recreation room was designed to resemble a warehouse loft with open trusses, complete with a concert stage on one side — with instruments, amps and a microphone — and a projection screen on the other.
Even the bedrooms and bathrooms are smart! The comfort foam mattresses are adjustable through dedicated remotes or an app, while the en-suite his-and-hers master bath embodies understated luxury with electronic modern bells and whistles. The shower has a powerful Moen Waterhill rainshower head that conserves water, and nearby a vertical spa is digitally controlled to preset water flow and temperature. The remote-controlled toilet/bidet has seat-warming settings and proximity sensors for raising and lowering the lid. Lastly, a flat-screen television provides HD video with connection to the whole home system and streaming content — what better to watch HGTV on?
The giveaway ends on June 9 at 5 p.m. ET. and allows you to enter twice a day at both HGTV and HGTVRemodels.
HGTV Hosts Chris Lambton & Tiffany Brooks