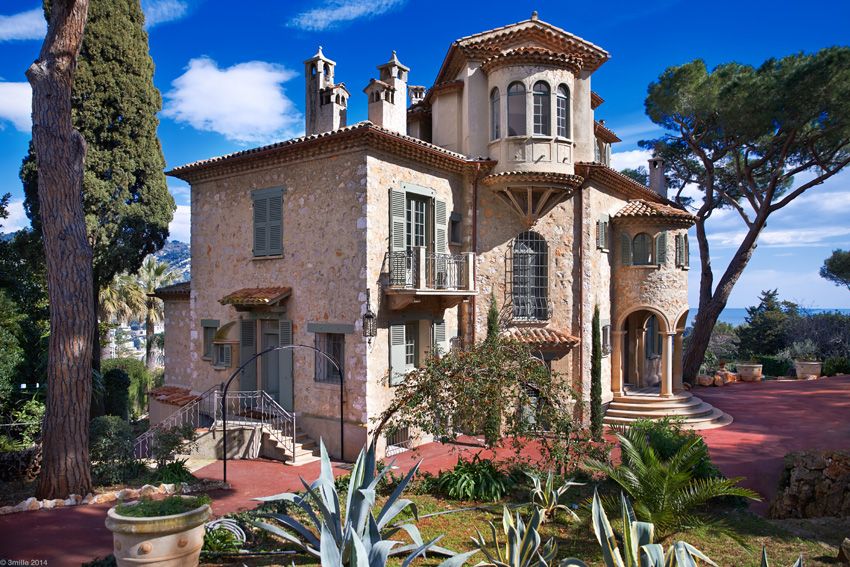 Photos Courtesy of Côte d'Azur Sotheby's
Chateau La Cima in Nice looks like it could be the summer home of Beauty and the Beast when they get tired of their castle — it's literally that beautiful. Côte d'Azur Sotheby's International Realty announced earlier this month that the villa is now on the market for an undisclosed amount of money, but you can bet this former home of David K.E. Bruce (the U.S. Ambassador to France, West Germany, and the UK) will have a steep asking price. Built in the 1920s and set among landscaped grounds, the luxury villa overlooks Villefranche bay (which is considered one of France's most beautiful) and offers panoramic views of Cap Ferrat peninsula out towards Italy and Monaco. 
The property is located in the For?t Nationale de France park, close to the beach, and only a few minutes' drive away from the Old Town of the Nice City center. It's also neighbors with the Fort du Mont Alban that was built in the 16th Century by Emmanuel Philibert, the Duke of Savoy. 
Chateau La Cima is surround by around 43,000 square feet of grounds, including a main garden full of stone sculptures and an ornamental pond, a 45-foot heated infinity pool tiled with mosaic and equipped with a jet stream, an orchard and a Mediterranean vegetable garden.
If the "yard" isn't enough, the Chateau La Cima's interior features a balance between the structure's classic character and modern amenities, with original carved stucco. There's seven bedrooms, large dining and living areas, a bespoke kitchen, wine cellar, and separate staff accommodations. The first floor is where you will find the master suite, which has a sitting room and a bathroom that overlooks the gardens and ocean. The other suite downstairs is where you will find the former Ambassador's crest still placed over the bed.
The second floor has a multi-functional room (that can be used as a bedroom and a study) and a circular Moustier-style bathroom in the tower. The garden floor is where you'll find two more en-suite bedrooms, fitness room, the wine cellar and provisions for a sauna or hammam. There's also a guest cottage with two en-suite bedrooms and its own garage.
If you're a literary buff, you may like to know that the Ambassador used to hang out with Ernest Hemingway and F. Scott Fitzgerald. So after you buy the villa, it's entirely logical to tell all your friends that the writing giants used to swim in your pool.