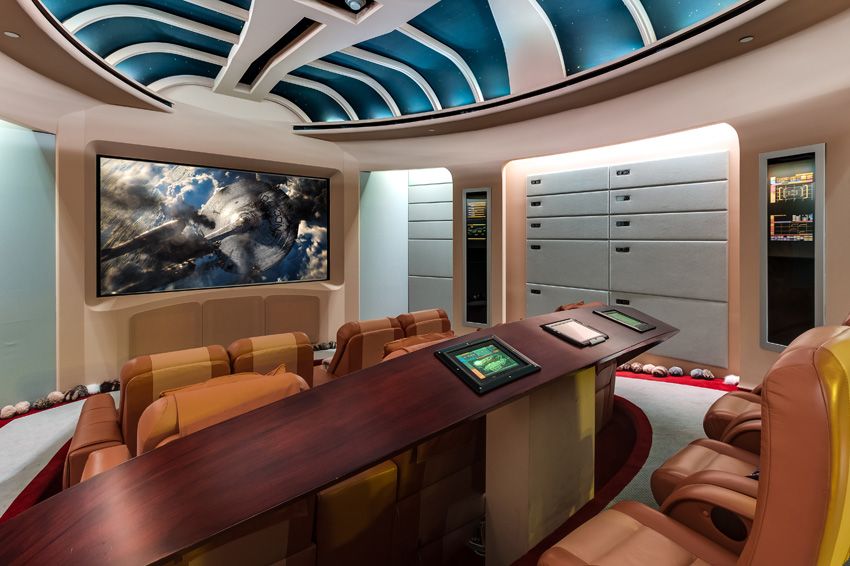 Photos Courtesy of Douglas Elliman Real Estate
This incredible eight-bedroom, 16-bathroom luxury home has recently hit the market, and it's one of the most intriguing properties we've ever seen. Just shy of 35,000 square feet and selling for $35 million, the house has a private theater that is an exact replica of the bridge in the USS Enterprise from Star Trek: The Next Generation. Not only does it look like the iconic bridge, it also has sound effects from the show built into the doors. In the words of George Takei, "oh myyy."
The seller Marc Bell currently runs an investment firm that focuses mostly on real estate, entertainment ventures and private equity, but you may have heard of him from his production of the Broadway show Jersey Boys. Even at its high price, there's a chance this home might get sold a touch quicker than most multi-million-dollar homes thanks to its Star Trek appeal.
Just outside the bridge/theater (which also has thousands of glittering stars on the ceiling) is even more Star Trek themed design and memorabilia, including a life-size Borg statue. The attention to detail is top notch, but it's not the only themed portion of the house. A room dedicated to console gaming is referred to as the Call of Duty Room, as it has been designed with a flood of light brown coloring, just like the series' graphical elements. Sandbags, camouflage netting and distressed wood adds to the authentic look of this gaming room, making it look like a blast to…well, blast your friends away in a competitive game.
While we're on the subject of gaming, a 60-plus machine arcade takes up what was originally build to be a ballroom. The space contains games spanning multiple decades starting from the late 70s until modern units. And for more traditional game players, the arcade also has staples like ping pong, billiards and air hockey.
With so many entertainment venues going on inside the home one would think the exterior has additional aesthetic touches that highlight Bell's apparent love of sci-fi and video games, but that's far from the truth. The exterior of the home, both front and back, is simply gorgeous. It looks like a small island luxury resort, complete with a full basketball court, lagoon-style pool with waterfalls, and a covered dining area.
Without a doubt, this property is a great spot for throwing massive parties and has the amenities available to keep everyone entertained. If you want to snatch it up, contact realtor Senada Adzem Bernard directly at (561) 245-2635.