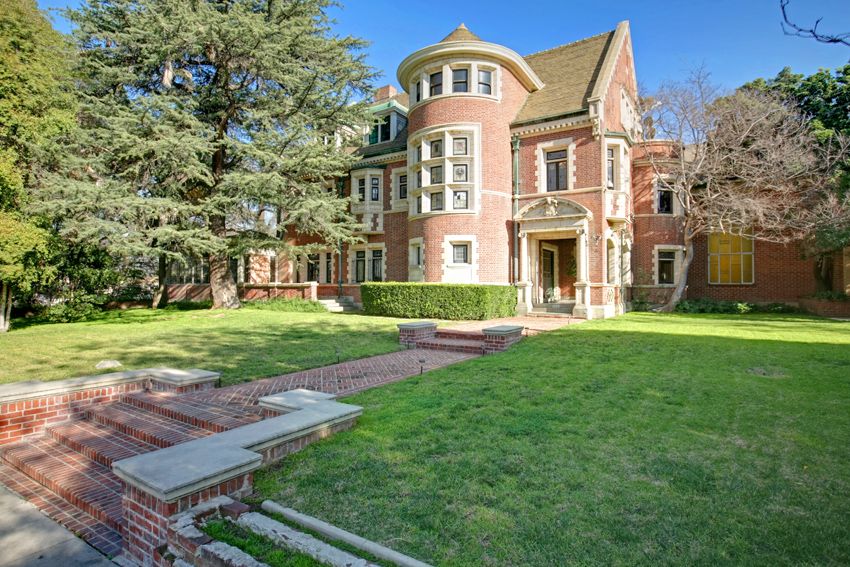 Photos Courtesy of Joe Babajian
People in Los Angeles are pretty familiar with the registered cultural monument at 1120 Westchester Place that's affectionately dubbed the "Murder House" — you know, the spooky mansion that has popped up in a number of movies and television shows, like the first season of American Horror Story. The luxury estate, which has been everything from a private home and chapel to a Hollywood film set, is officially looking for a new owner at only $5 million.
Designed by famous architect Alfred F. Rosenheim — who is known for Gothic design and created several homes such as this one - the three-story mansion broke ground in 1907 and took five years to finish. The estate sits on over 20,000 square feet of land, which includes the main house and a grand ballroom (which used to be a chapel when the Catholic Church owned the property in 1954). The current owners, music producer John Gocha and Greta von Steinbauer, have been using the ballroom as a private recording studio — so you know tons of famous musicians have hung out here.
Having originally built it for himself, Rosenheim filled the home with stained glass and Tiffany light fixtures, as well as a hand-painted ceiling in the dining room using silver and gold leaf. With six bedrooms, six baths, and six fireplaces (666?), the estate still has original detailing, marble, imported tiles, and hard woods. You can also fit up to 5,000 bottles of wine in the basement — though you may not want to go down there at night.
So, what exactly has been filmed here? The mansion was used in the season four Halloween-themed Buffy the Vampire Slayer episode, Frank Sinatra's Old Blue Eyes, Spiderman, Because I Said So and Seabiscuit. It's appeared in a long list of television shows, including CSI Miami, Alfred Hitchcock Presents, Dexter, Dragnet, Hill Street Blues, Six Feet Under, The Twilight Zone, The X-Files, Law & Order, Ghost Whisperer, NCIS, The Closer, Nurse Jackie, CSI New York, The Unit, 90210, Angel, The Mentalist, 24, Criminal Minds, Law & Order: Special Victims Unit, Monk, Grey's Anatomy, Bones, and Californication…to name a few.
Photography fan? Many of the art world's biggest names have shot on the property, including Herb Ritts, Annie Leibovitz, Walker Evans, Bruce Weber, Helmut Newton, Guy Bourdin, Henry Cartier-Bresson, Diane Arbus, David LaChapelle, Peter Lindbergh, Mario Testino, and Terry Richardson.
The "Murder House" has been on the market several times these past few years — with last year asking for $17 million. At just $5 million this time around, the estate is a steal, especially considering how much revenue you'll pull in from Hollywood executives constantly knocking on your door with movie and TV proposals.