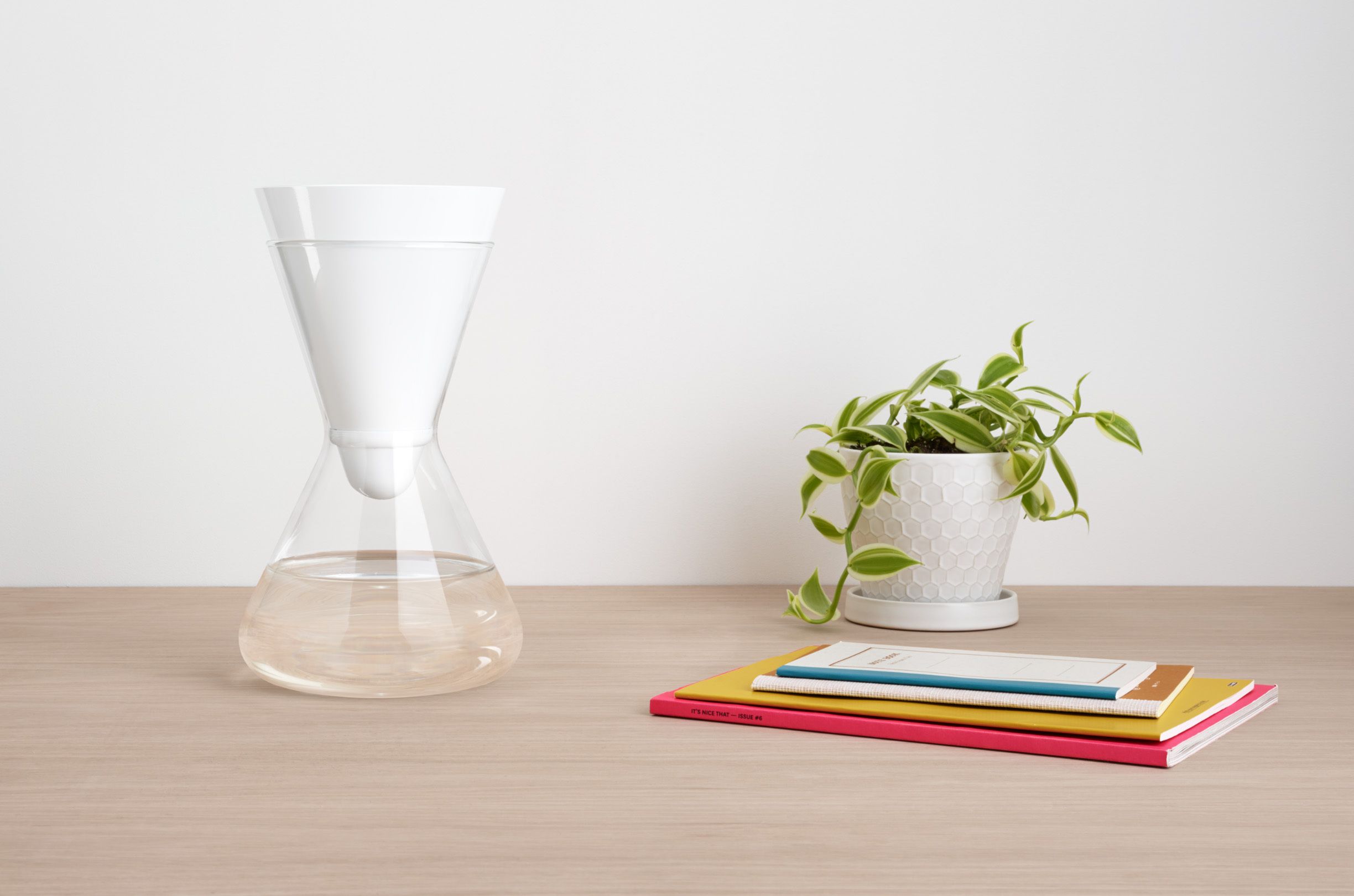 Photos Courtesy of Soma
Brita has been dominating the world of in-home water filtration products, but they're not exactly ideal. Not only can they be a mess to use (especially when the water level is too high or when black charcoal flecks get in the water), they're pretty ugly to look at. Soma is changing all of that with an attractive glass carafe that we wouldn't mind putting on display on our dining room table during dinner.
Not only are the filters completely biodegradable (made from coconut shells and a plant-based casing), the carafe was designed to fit perfectly in your refrigerator at 10.7 inches tall and 6.5 inches in diameter. Able to hold around six eight-ounce glasses of water, Soma would look fantastic sitting next to a wine carafe at your next fancy get-together.
We briefly chatted over email with the founder Mike Del Ponte on how this unique design came to be, what sets Soma apart from other filters, and how he used entrepreneurial know-how to get his company funded on Kickstarter (where it raised $147,444 after only 38 days).
JustLuxe: Can you tell us a little about yourself and how you came to be where you are now?
Mike Del Ponte: I've always been passionate about charitable initiatives and innovative ways to help others. When I was at Boston College a professor once told me, that the most important thing you can do is find your calling in life. I have spent my life searching for where I could make the biggest impact while doing the things I loved. This ultimately led to the idea for Sparkseed, which is an online platform that provides launch support for social ventures around the world. From there I was able to be involved in a number of digital start-ups where I was able to hone my skills as a CEO and build crucial relationships. By the time the idea for Soma came about, it was clear I wanted to be an entrepreneur and was ready to take on this goal.
JL: We love the luxe look of the Soma's carafe design; how did it first begin?
MP: The idea for Soma first came about at a dinner party I was hosting. Everything was ready to go; the food, the music, the wine, and as my friends started coming in, one of them asked for a glass of water. I walked in my kitchen, opened my fridge, and I grabbed the leading brand water filter. And then thought, "There's no way I can put this on the dinner table." So I started pouring the filtered water into a glass wine decanter, but as I got about halfway through, the lid of the water filter fell off and spilled all over my floor. That accident led to the "big idea" and I set out to design something that was aesthetically beautiful, environmentally sustainable, fun to use, and had a charitable initiative behind it.
JL: How is Soma different, aside from its appearance, from other water filtration products?
MP: Soma has really been a game-changer in a space where there was a lack of innovation. With Soma, we sought to evolve the everyday notion of drinking water and elevate it with design, sustainability and a charitable component. The filters are plant-based and the online subscription-based service ensures fresh filters are delivered to your doorstep when it's time for a new one. Plus, with every filter purchased, a contribution is made to charity:water, the non-profit organization that provides clean, safe drinking water to people in developing countries.
JL: As an entrepreneur, what were some of the biggest challenges in creating the brand?
MP: I think there are so many businesses out there where the founders think they've got a good idea, but no one really wants [it]. It's crucial to really gauge if there is a market or a community interested in your brand or product. For us, Kickstarter really allowed us to test the waters, if you will. Fortunately, we had thousands of people jump on board with our vision for Soma.
JL: Are there any other ideas that you are mulling over and hoping to get put into production and if so, can you tell me a little about them?
MP: Right now, we're really looking to evolve the next phase of Soma and expand our reach.
Soma ranges in price from $59 to $179, depending on how many filters you choose to purchase with the carafe.