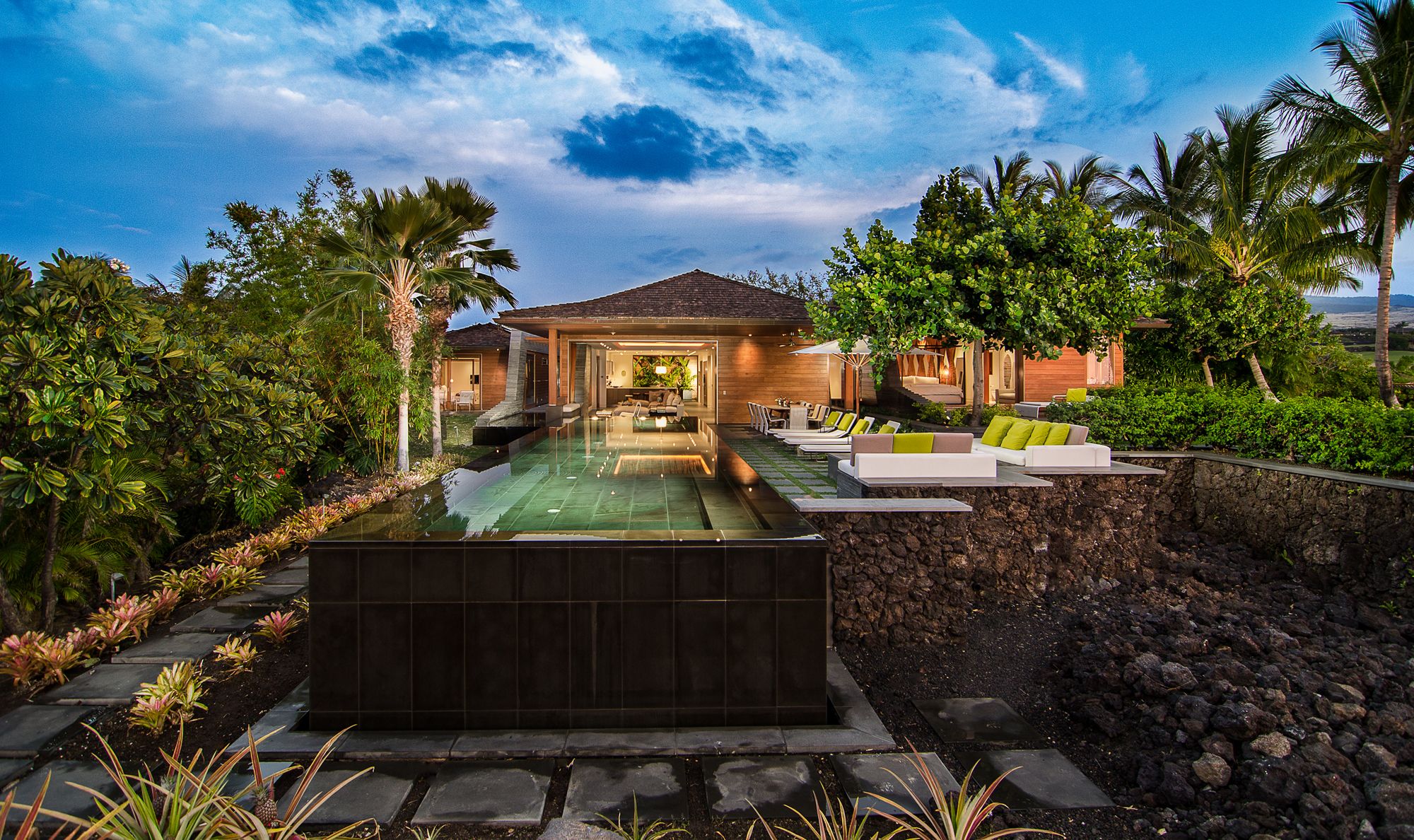 Photos Courtesy of Hualālai Realty
The $12.7 million luxury home at 72-230 Kahikole Street, in the center of Hawaii's Hualālai Resort in Kailua Kona, has a pretty unique architectural design. Set up as a series of pods, each with unique features and views, the private residence showcases digitally-created wood ceilings and screens, water elements, and exotic finishes. Plus, it has won several awards, including the 2013 Hanley Wood Builder's Choice, Custom Home Award and the Best of the Year award from Interior Design Magazine in 2010.
The seven bedroom/bathroom house was designed by Hagy Belzberg, with Belt Collins taking on the landscape architecture and MLK Studio doing the interior design work. Built near the ocean and a volcanic mountain, the residence was designed around natural lava formations to bring nature into the home. The 6,769-square-foot estate is split up into four different pods, two pods house six bedrooms (three in each), one holds a professional screening room that can seat 15 people, and the fourth one holds the kitchen, dining room, great room, office, gym, and the master bedroom—all of which lead out to a pretty spectacular pool.
Floor-to-ceiling windows and doors are scattered throughout the home, with European oak and porcelain tile flooring. A Crestron smart home program controls everything from the temperature and the lighting to the fire features and the movie screen, allowing you to customize exactly how you want to live. With much of the home was made using eco-friendly methods, reclaimed teak accented by Chinese basalt stone slabs can be seen on the exterior and in the walkways.
One of the most stunning exterior features is the entry pavilion, which is a stunning laticework parabola that hearkens to traditional basket weaving of Hawaiian culture. It's framed by built-in fire features and appears to be floating on water. An open breezeway runs through the home's middle, working to connect the four pods, and feature teak beams, conical glass vases holding orchids on the walls, and floor-to-ceiling glass doors—all leading out to a reflection pool and a raised hot tub.
For sale through Hualālai Realty, the luxury Hawaiian estate has so many amazing elements that it's hard to list them all, so we better let the photos do the talking for us.