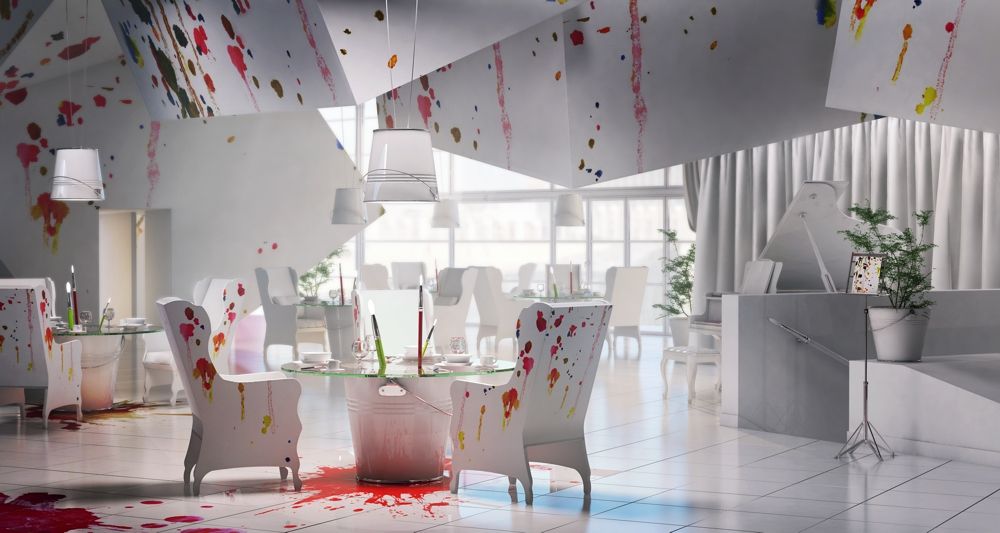 Photos Courtesy of Wamhouse
If you've seen any images from Karina Wiciak's XII collection, you won't soon forget her work. The Wamhouse designer's long-term project is a series of 12 luxury restaurants that completely reinterprets the dining space, combining elements of horror and fantasy to create otherworldly scenes.
An interior designer since 2005 and a background in civil engineering, love fuels her work and Wiciak finds herself drawn to unique artistic combinations of architecture and aesthetic design. When she was first starting out, she worked in Chojnice, a small town in northern Poland that is near the famous Tuchola Forest and the Bory Tucholskie National Park. Being so close to nature infused her work with a fresh and organic way of looking at architecture, inspiring not only her process but also the finished product.
Poczekalnia
Each of XII's distinct designs (Ptaszarnia, Ubojnia, Masarnia, Warownia, Szklarnia, Stolarnia, Palarnia, Szwalnia, Papiernia, Pracownia, Poczekalnia, and Szmaciarnia) has a theme, ranging from a slaughterhouse and a prison to a textile factory and a painter's canvas, and each one is just as interesting as the last. None of the dreamt restaurants are a reality, but we can see an eccentric restaurateur snatching one up for a new gourmet dining space.
Wiciak took some time from her work to answer a few of our questions about what influences her, whether she would design for a private residence, and why personal style is the most important piece of any design.
Ubojnia
JustLuxe: How has your aesthetic been influenced by that of your country or the surroundings you grew up in? There's an interesting combination of horror and innocence reflected in your designs; are you inspired by other art?
Karina Wiciak: These designs (the XII collection) may contain a trace of [the] European cartoons I grew up watching, but I haven't been inspired by them consciously. I've been more inspired by thriller films, mostly Spanish (among others, Guillermo del Toro), which I'm a fan of—you may be right, they do actually mix horror and fable, so maybe there is something to it.
On the other hand, I've been very inspired by, for example, Joel-Peter Witkin's photographs, which are a lot more macabre, and at the same time subtle. However, you won't find any specific references to any particular films, photographs or scenes in my designs from the XII collection.
Palarnia
JL: With XII now finished, what was the most challenging to design and which was the easiest?
KW: In principle, all projects were similarly easy and difficult at the same time. It is difficult to always find [your] own style, [your] own self, but once you find it, everything becomes easier.
JL: If a restaurant owner wanted you to replicate one of the designs for their establishment, would you?
KW: At this point I don't have specific plans for completing these projects, but this wasn't the most important thing for me though. Theoretically, it will be possible to order a specific interior design in the form of adaptation of the selected part of the collection, on the basis of exclusivity.
But these projects require the use of unusual materials and architectural solutions, and for me the most important [factor] is [to] faithfully reproduce all of my ideas in each of the realization. I realize that the implementation will be difficult and costly.
Stolarnia
JL: What are your primary objectives when designing a space? What do you think is the most important element of a room?
KW: I think the most important thing is your own style. A designer should be above all sincere and natural in what he's doing. This, however, is extremely difficult—especially in architecture, which isn't only art (for example, artistic photography), but also has to take into account the functional properties, investor's and users' requirements, etcetera.
Another difficulty in designing are the ubiquitous trends, which are easy to succumb to, even completely unintentionally. If, however, someone wants to create their own design style, he has to first look for and get to know himself—not worry about what's in style—and open up his mind to new possibilities, rediscover a child in himself.
Bedroom
JL: Do you have the shells of future ideas in your head already? Maybe just looking for the right place to execute? What are they if so?
KW: Currently I [am creating] a short series of design called Pastel Collection, which will be a little less weird, and a little more fairytale and sweet (as the name suggests). The first project, called Bedroom, you can already see.
JL: What would be your dream project and why?
KW: Right now I design what I always wanted to design. It's would be ideally to realize all the projects from the collection XII. [Sic]
Szwalnia
JL: Would you create a space for someone's private residence ever? Why not or if you have, can you tell me about it?
KW: I was designing private residences for several years, but they were typical interior designs. I would like, of course, to realize some of my crazy ideas in a private interior. However, it requires a lot of courage from the investor.
Papiernia
Poczekalnia
Ptaszarnia
Stolarnia
Szklarnia
Szmaciarnia
Ubojnia
Warownia
Pracownia
Masarnia
Szmaciarnia