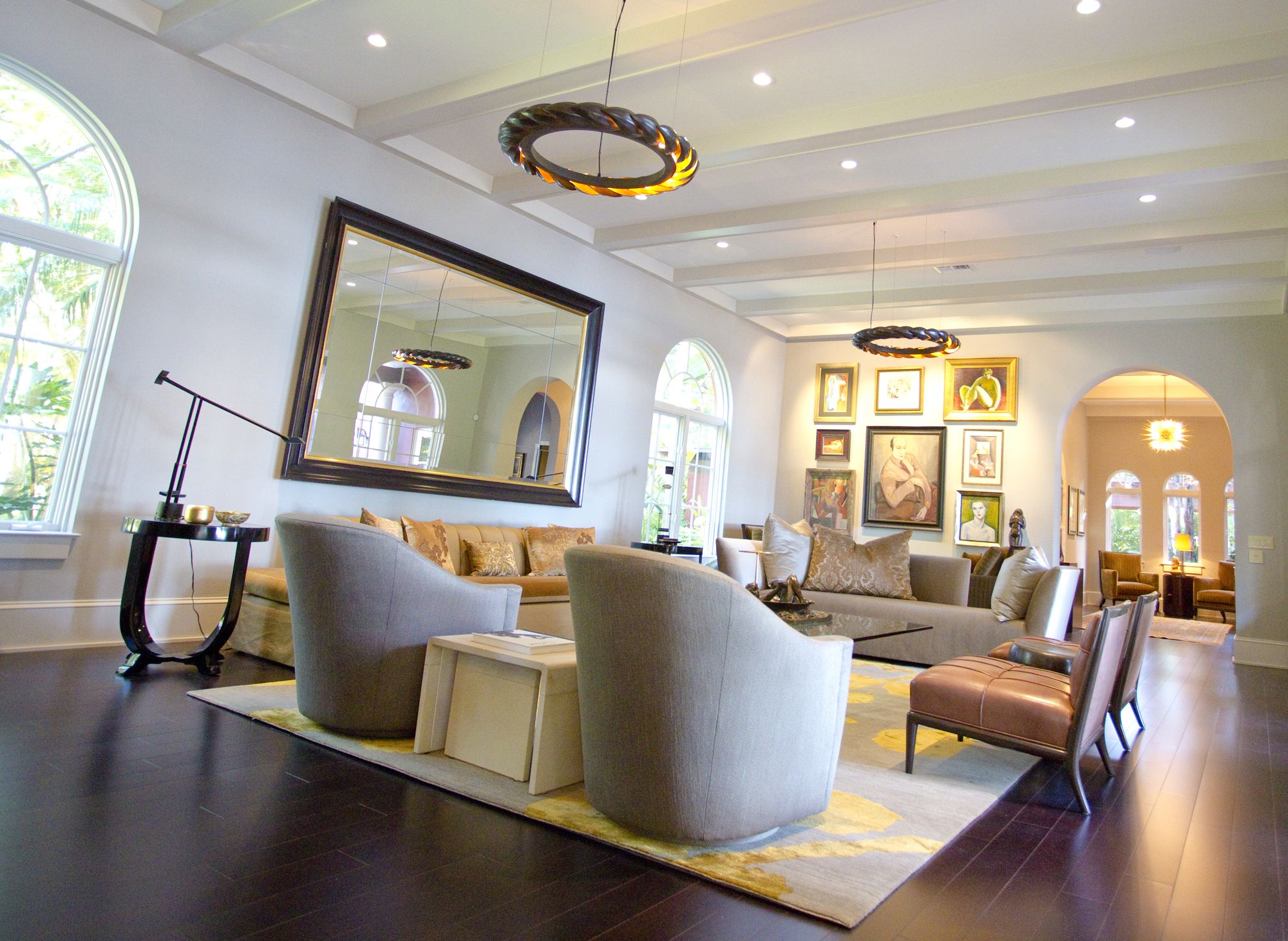 Photos Credit: Nautilus Homes
Small homes have become far more trendy in the past few years among the affluent. Though living in something a little on the smaller side may have once indicated financial woes, it's no longer the case. Many people choose a less expansive house in addition to their existing estate (think vacation home), while others do it to limit their carbon footprint and live more simply. But figuring out how to maintain a certain lifestyle while living smaller, can be a game you don't want to play alone. Which is where Florida-based Nautilus Homes swoops in.
The nautilus shell is considered to be the ultimate example of nature's perfection; a beautiful balance between function and form. Which is why Richard Perrone and his two sons (Ryan and Ricky) decided to name their company after it. Nautilus Homes creates custom luxury residences that are less than 5,000 square feet and refers to these smaller residences as "jewel box" homes. Five thousand square feet may not seem all that small, but we agree with Forbes that on average a large home or mansion sits at a comfortable 8,000 square feet or above. That is a size that takes considerable upkeep and guzzles energy, water and more. Each residence designed by Nautilus is designed to match each client's lifestyle and needs, focusing on top-of-the-line fixtures, gadgets, and décor, instead of lavish space.
Ryan, who is the company's President, took some time to chat with us about what Nautilus does, how they stay ahead of trends, tough client requests, what luxury means to him, and where he sees the home market heading in the future.
Mila Pantovich: Will you tell me a little about your background and how you got into homebuilding?
Ryan Perrone: My father is a luxury custom home builder and has been since before I was born. I remember stapling on corner bead when I was five-years-old. I started working during the summers when I was 12 and continued until after my first year of college, when I started working full time. I supervised my first project when I was 19, which was featured on the 50th anniversary edition of Veranda magazine cover. I received my degree in construction management in 2009 and created Nautilus homes in 2011.
MP: Can you explain the concept behind the Nautilus shell as your logo and brand name, and what it means to you?
RP: The ancient Nautilus Shell is a symbol of proportional perfection. It is the most inspiring and energetic form known to human kind. It is also the perfect paradox—having survived relatively unchanged for millions of years. The Nautilus Shell is, oddly enough, a symbol for expansion and renewal as it grows increasingly larger chambers throughout its life. Its shape represents the golden mean number, known as PHI, in which the digits continue indefinitely without ever repeating themselves. PHI is found in all living forms, and when used in artwork and architecture, it renders the object beautiful to the human eye.
To me, the Nautilus Shell encapsulates what I try to achieve in my work: balance, beauty, consistency and continual growth. I strive to integrate that perfect paradox, to create stability by keeping what has always been good, but to generate change by discovering what needs to improve. I want to strike that perfect balance between justice and progress that helps us become a more civil society. I want to provide my clients with beautiful, top quality work that inspires and energizes them to continue evolving, whilst always retaining that which is good.
MP: How did you take the company from a start-up to where it is now?
RP: We couldn't have done it without the help of our sister company Perrone Construction, which my father owns. We have grown our own legs now. It has taken many long work days that often run into nights. I recall one day that lasted into the next morning (Saturday). When you love what you do it's not a job, and that's what I have here. I don't just build houses, we are on the forefront of building what tomorrow looks like.
MP: When did you first notice the smaller home trend among affluent homeowners?
RP: When the economy started its downward spiral, I was still at Perrone Construction. We decided to create a spec home that was somewhat smaller than our typical client-built home. We didn't do spec homes previously. Most people were skeptical of our decision to do so, but it panned out well for us. The client that purchased our under 4,000-square-foot home was a client that we had built two houses over 8,000 square feet for over the previous 20 years. [The client] wanted to downsize, but wanted to retain that "Perrone" quality. This got us starting to think, so we created Nautilus with that vision.
Now we are gearing ourselves towards another niche which is very appropriate for our area. We are focusing on the Modern style of architecture. Sarasota is known around the country and perhaps around the world for our forward-thinking architectural style. I would like to be part of that continuing movement.
MP: Why do you think people are starting to gravitate towards these Jewel Box homes and move away from mansions?
RP: I wouldn't say that it is a trend, but rather an untapped market that we were not previously very involved with. There will always be people that want more and people that value quality over quantity.
MP: What exactly makes them a unique and luxurious way of living, as opposed to simply living in a "standard" sized home?
RP: Quality and attention to details as a builder is not about sticking on "gingerbread" details. I believe that what we do is about using the same materials in a different way to create more value. I believe that the added value is not necessarily in what you see, but rather what you don't. We like to place our outlets in baseboards, install solid core MDF doors, do complete lighting layouts and minimize wall and ceiling acne. Our homes always sell at a premium.
MP: What key elements do most home builders going after this kind of lifestyle seem to look for? What makes them unique in comparison to a upper-middle class family looking for a 3,500-square-foot home?
RP: There are a lot of builders out there, even builders that try to market themselves as "custom home builders." We believe that our clients are looking for not only a product that is at another level, but the service that goes along with that. We are here to make the process enjoyable.
MP: Since you custom design homes for clients, what have been some really tough requests?
RP: Bullet proof hidden rooms, wine rooms, countertops that look like they have no support, [and] extremely tight tolerances on remodels of 100-year-old kitchens. I always say, where there is a will, there is a way.
MP: What has been the smallest home you've done?
RP: My personal home, 1,800 square feet. For a client, 3,100 square feet.
MP: Do you have any favorite or standout projects that you would like to share with us?
RP: My favorite is a house on Siesta Key that truly embodies the style that it is designed after and the concept of Nautilus homes. The house is a "low country" home that gleams with quality, is impeccably designed, and has a client that was downsizing from an 8,000-square-foot home.
MP: What are you working on now?
RP: We just started on a new home that is modeled after a Frank Lloyd Wright Prairie style. The house is designed by Randall Paul Sample to conform to the natural grades of the property and maximize not only the view of the bay, but the interaction with the breezes that come off of it. We broke ground about one month ago and are currently in the backfill stages.
MP: Where do you see the home market going in the future?
RP: One thing that I learned during the recession is that you cannot be sure, but you need to stay flexible and work hard when the good times are here and work harder during the bad times. One of the most exciting things that I see happening with home design is the affordability of home automation and the influx of great building materials. Generally, the building industry has had very stagnant [research and development]. In the past four years, there have been some incredible finish materials and structural materials that have hit the market.
MP: What does luxury mean to you?
RP: Luxury is not a golden faucet or an onyx sink. That is opulence. Luxury doesn't start in the finishes or even the foundation, luxury starts in the idea. I believe that luxury is having what you have always wanted and being able to enjoy it.