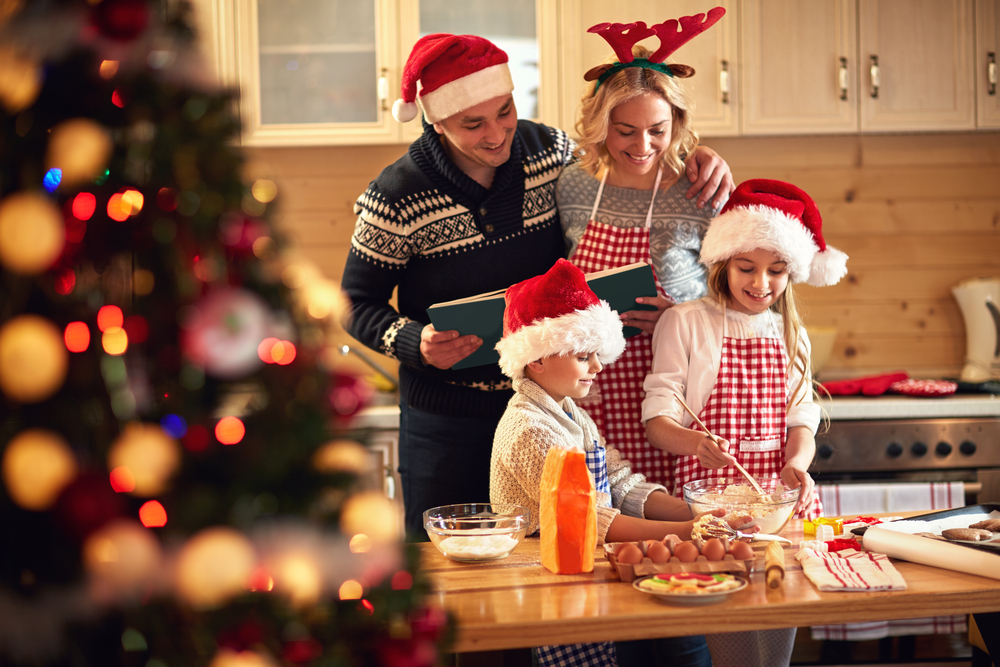 Photo Credit: Shutterstock
In celebration of the holidays on the horizon, we've been rounding up our favorite gifts for food-lovers and aspiring chefs. From growing up pulling on your parent's apron, to making a mess cooking your first home-cooked meal or baking your very first chocolate cake, being in the kitchen is a personal experience. As such, this part of the house is a minefield for gift buying because you can truly cater to your host, family or friend's needs. If you are looking for a special item to gift this season, think beyond a new platter or cookbook and take a peek at our list of luxury kitchen items.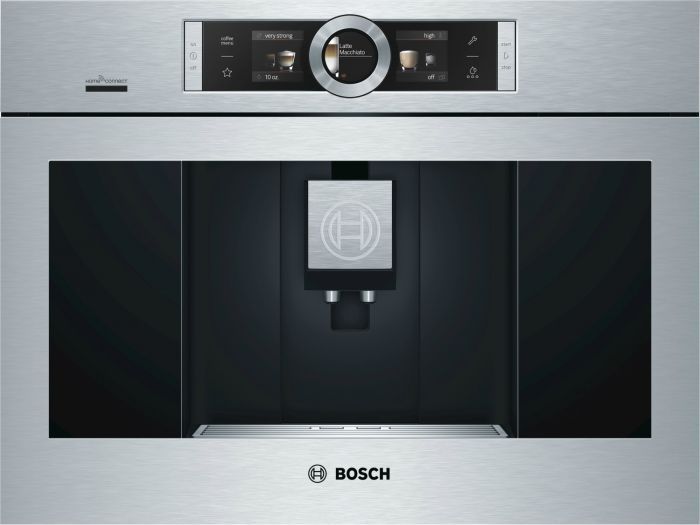 Photo Credit: Bosch
Bosch Built-In Coffee Machine with Home Connect—$3,099
Bosch Built-In Coffee Machine with Home Connect uses innovative technology and an intuitive interface to help users craft the perfect cup of coffee every time. With the addition of Home Connect technology, this smart device connects to home appliances in a single, intelligent network and can be operated conveniently via the Home Connect app (iOS, Android). Prepare espressos, cappuccinos, lattes, macchiato and more within minutes and with its My Favorites function, store up to eight of your favorite coffee preferences.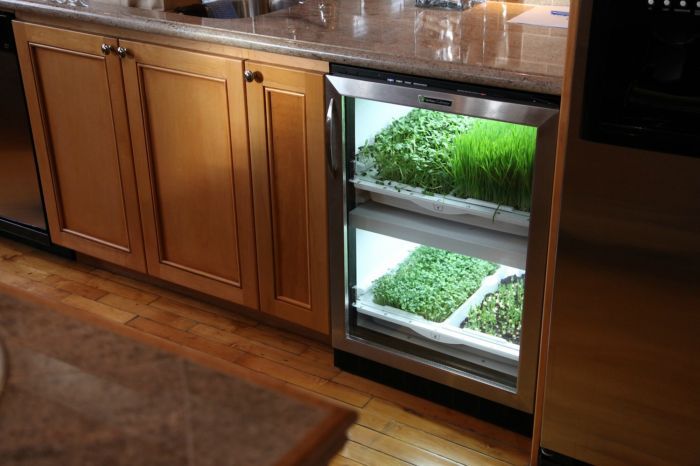 Photo Credit: Urban Cultivator
Urban Cultivator Residential—$2,699
The Urban Cultivator Residential is a high-tech indoor gardening appliance, with the exact same dimensions as most dishwashers that allows users to grow fresh, nutrient-rich micro greens and herbs year-round, right from your own kitchen. Equipped with its own automated watering systems, fan systems for cooling and programmable lighting, the system is easy to install. It can be seamlessly integrated into any kitchen décor as it comes either as built-in with plumbing that fits under a counter top, or as a stand-alone unit with a butcher-block top. The Urban Cultivator is the ultimate farm-to-table solution for health-conscious home cooks and for people living in the city where weather doesn't permit year-round gardening.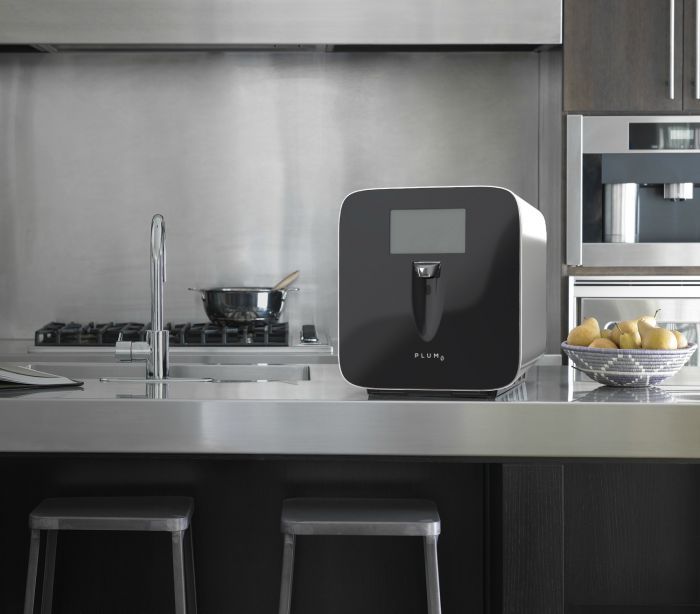 Photo Credit: Plum
Plum—$1,499
Plum is the first wine appliance of its kind that preserves wine up to 90 days, and serves at each bottle's perfect temperature. Users simply drop in any 750ml bottles of wine with any closure, and Plum takes care of the rest. It automatically identifies the wine, setting the perfect serving temperature, cooling each bottle individually, and pours the wine one glass at a time. Users will also be able to connect to its app which allows for the tracking of what wines they consumed, changes in the user's cellar and which varietals are currently on tap. Plum is currently available for pre-order and will available during the holidays. For those wanting to experience the wine system in luxury, visit the Four Seasons Hotel Silicon Valley, as it is the first hotel to have Plum in their rooms.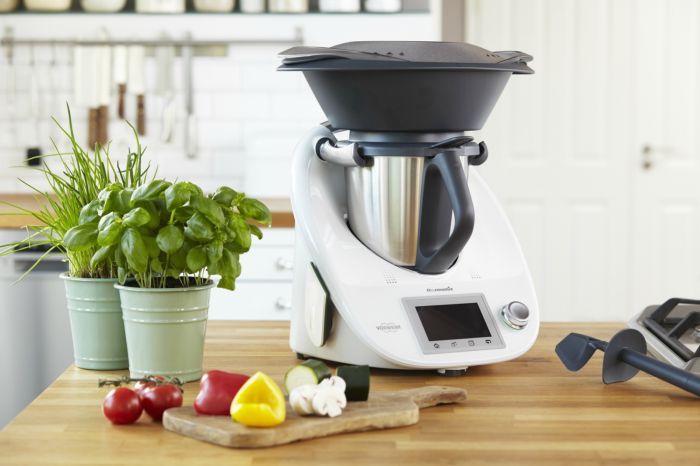 Photo Credit: Thermomix USA
Thermomix—$1,448
Thermomix is an innovative kitchen appliance and digital ecosystem, designed to make smart cooking simple. After more than 40 years in the homes of cooks and chefs across Europe and Australia, the Thermomix came to the US in 2016. This smart, compact kitchen tool replaces 12 kitchen appliances and allows users to chop, grind, stir, mix, blend, steam, sauté and more. For beginner chefs, the guided cooking feature takes the guess work out of any dish and the Cookidoo cooking platform gives users access to nearly 10,000 Thermomix recipes from around the world.
Photo Credit: June Oven
June Intelligent Oven—$1,495
The June Intelligent Oven is the world's only intelligent convection oven, making cooking faster, easier and tastier. Combining the versatility of an oven, broiler, toaster and microwave, the June Oven recognizes, through an internal HD camera and Food ID technology, what's cooking and determines the best technique to prepare it. The oven is sleek and compact with a touchscreen interface and can cook for up to six people, operating via computer recognition software. Enjoy over 50 cooking programs and on the free June iOS app, control the oven from anywhere, watch food as it cooks and receive notifications when it's ready.
Photo Credit: NewAir
NewAir 29-Bottle Black Stainless Steel Wine Cooler—$849
The NewAir 29-Bottle Black Stainless Steel Wine Cooler upgrades your kitchen to a to a sommelier's dream with a built-in, black stainless-steel wine fridge. The compact design allows for the storage of up to 29 standard wine bottles, with removable shelves which allow you to customize the space to accommodate large or standard bottles. With dual chill zones for perfect storage of red and white wines, it is built less than 15 inches wide and to standard counter height and depth.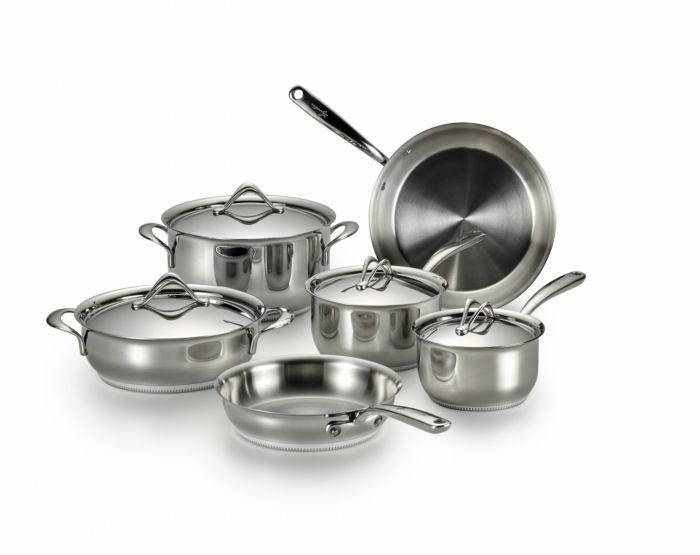 Photo Credit: Lagostina
Lagostina Opera 10 Pc. Cookware Set—$499.95
Crafted in Italy, the Lagostina Opera 10 Pc. Cookware Set allows any cook, no matter his/her level, to infuse the quintessential Italian style of cooking and sharing into any occasion. With a mirror-polished steel façade and its ultra-thick Lagofusion three-ply construction, each piece delivers superior heat diffusion throughout allowing food to cook to a beautifully even finish. The collection includes 8-inch and 10-inch skillets, 1 ¾ Qt. and 2 ½ Qt. saucepans with lids, a 3 1/2 Qt. covered casserole, and a 5 3/4 Qt. covered stewpot.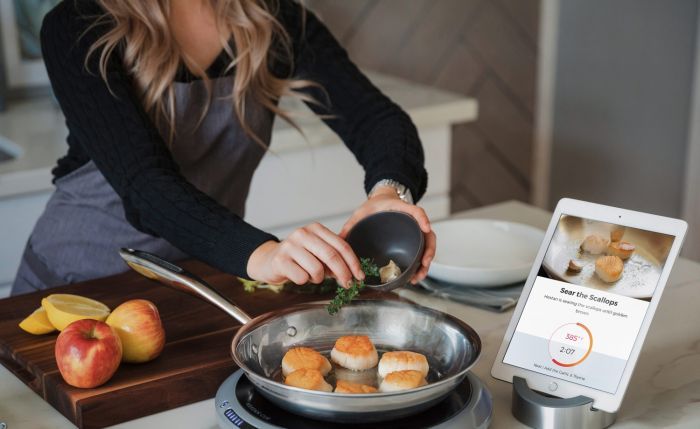 Photo Credit: Hestan Cue
Hestan Cue—$495
Hestan Cue is a video-guided cooking system built upon a shared love of food and innovation from acclaimed chefs from Michelin-starred restaurants and pioneering software developers. The Hestan Cue automatically controls temperature and time, during every step of every recipe. Their smart cookware, induction burner and recipe app all communicate with each other using Bluetooth technology and embedded sensors. Cue doesn't cook for you, it helps you cook better food, more often.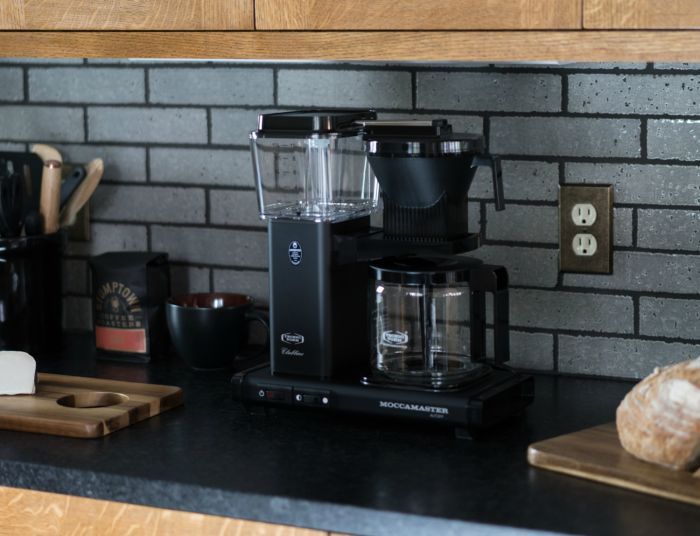 Photo Credit: Moccamaster
Moccamaster KBG—$329
The Moccamaster KBG features a glass carafe and an automatic drip-stop brew-basket that stops the flow of coffee if the carafe is pulled away. This elite premium coffee brewer is the choice for coffee aficionados, as coffee roasters as Technivorm's Moccamaster has set a high-standard of craftsmanship using quality parts handmade in the Netherlands and approved by the ECBC and SCA for meeting or exceeding their standards. The coffee brewer brews a full 40 ounces of pot of coffee in six minutes and is held on their hotplate with two settings, between 175 degrees and 185 degrees which never burns your coffee and automatically turns off after 100 minutes, ensuring an even taste from the first cup to the last drop. All Moccamasters are backed by an industry leading five-year warranty.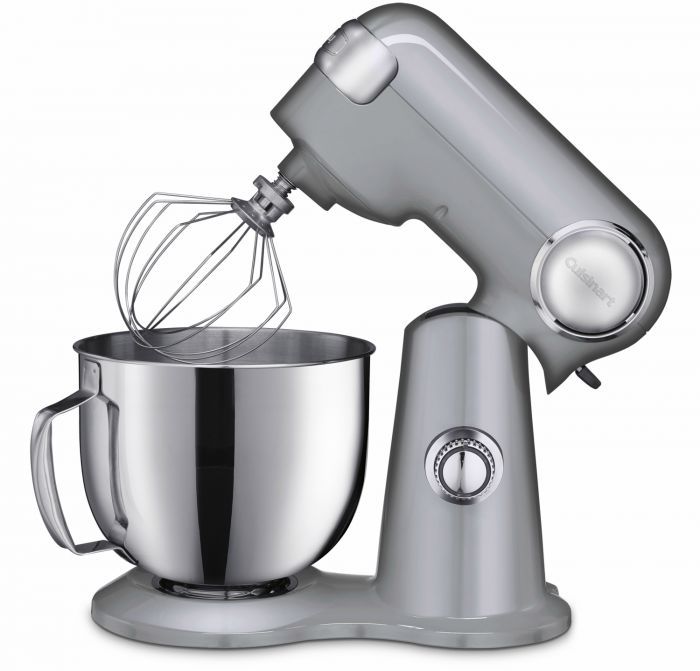 Photo Credit: Cuisinart
Cuisinart's Precision Master 5.5-Quart Stand Mixer—$249
If you are looking for a mixer that does it all, Cuisinart's Precision Master 5.5-Quart Stand Mixer has the power, capacity and precision to handle any job your recipes require. The company's newest stand mixer features a 500-watt motor, die-cast metal construction, and 12 speeds that allow for a variety of preparation tasks. Along with its 5.5-quart mixing bowl, included are a chef's whisk, dough hook and flat mixing paddle. The bowl and all accessories are dishwasher safe, and the stand mixer is available in Silver Lining, Onyx, Periwinkle Blue, Ruby Red, White Linen and Robin's Egg. To pair with its recipe book, a power outlet for additional attachments like: a pasta roller and cutter, pasta extruder, meat grinder and frozen dessert maker is available for purchase.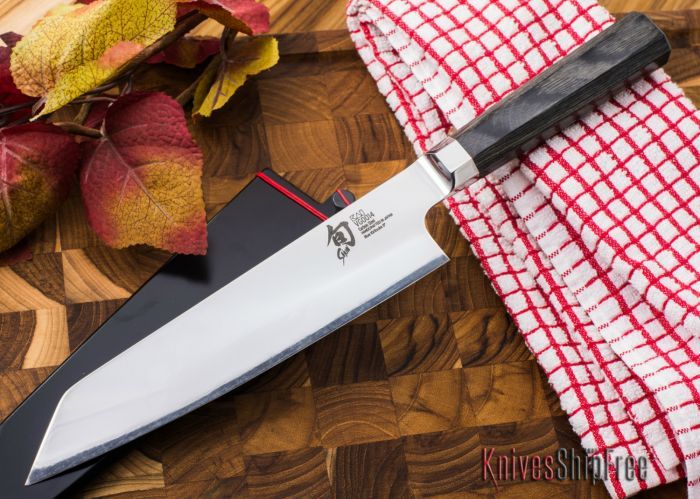 Photo Credit: Derrick Bohn, KnivesShipFree.com
Shun Blue Kirisuke 8" Knife—$229.95
The Shun Blue Kirisuke 8" Knife is a multi-purpose, hand-sharpened, 16-degree, double-bevel blade. Using a Japanese san mai blade, the knife was developed in partnership with award-winning chef, Chris Cosentino, with a fine-grained "blue" carbon steel cutting core. The kiritsuke is known as the master chef's knife in Japan and has a razor-sharp edge and quick re-sharpening. The knife is adorned by traditional Japanese handle styles in blue-grey Pakka Wood.
Photo Credit: Work Sharp Culinary
Work Sharp Culinary's E5 Kitchen Knife Sharpener—$235
Work Sharp Culinary's E5 Kitchen Knife Sharpener is an electric kitchen knife sharpener that works with the press of a button. No experience necessary, as the sharpener automatically turns off at the end of a sharpening cycle. Using flexible abrasive belt technology and the brands MicroForge edge refinement, the sharpener delivers professional results every time. A ceramic honing rod is also included for quick touch-ups on the fly. Every home chef should have this product on their countertop to ensure quality and easy cuts for anything they are crafting.