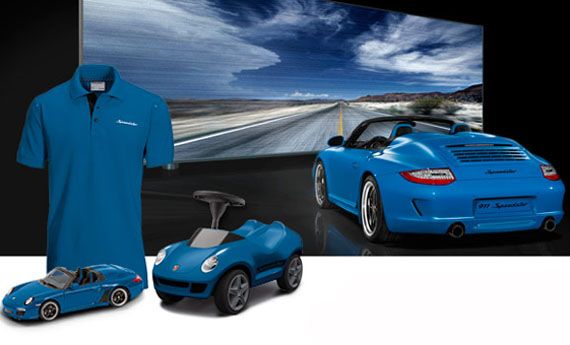 Luxury automobile
makers are attaching their brands onto additional goods beyond supercars with their own online stores. Many of them offer an array of licensed products that they feel would be of interest to both current and aspirant owners of their fanciful vehicles.
Here is a look under the hood of some of the most prominent high-performance automakers that have taken their well-established names off-road and online, with their own specialty stores.

Porsche, Bentley Motors, Ferrari and Maserati have online stores that carry a wide assortment of luxury lifestyle-complementing products. The virtual shelves of these "Web-lets" extend beyond scale models, calendars, photos books, and artwork that pay homage to automotive history. There is sports and casual apparel for all genders and sizes, as well as accessories for at home and on the job.

While analysts of business publications debate whether luxury brands, such as these supercar manufacturers, dilute their illustrious labels with such diversification, we invite you to surf through the shelves and do your own analysis.

Porsche
Welcome to Porsche! This online shop is packed plentifully with a wide choice of branded merchandise. Toys and casual apparel are featured for children, and there is jewelry and sportswear for men and women. The selections and various categories are extensive.

There is also office-related products such as USB sticks, calendars, ballpoint pens, desktop accessories, and computer mice in this section. More traditional vehicle-related items like scale models of racing and street-legal Porsches and model-car sets and radio-controlled units are available, too.

Bentley Motors
Bentley Motors' online store features casual clothing, accessories and luxury gifts that share the Bentley flying-B logo. Scale models of various automobiles also are available. The majority of products in the e-store are affordable to fans of all levels.

The Pure Bentley section of the portal features a collection of special storage containers made of fine woods, such as a humidor, a jewelry box and a watch box. In addition, there is a limited-edition model of the classic Bentley Blower made of sterling silver. It is 400 millimeters in length and priced just at tad over $55,000. There is something for everyone at the Bentley Collection.

Ferrari
Directly across from Porsche's, there is the Ferrari super online store! While the Maserati and Ferrari are connected, the Ferrari online store has more in common with Porsche's portal. Both have a broad assortment of categories. From home accessories to electronics to car collectibles to sports and recreation, the product mix enables lovers of the Ferrari label a big shopping experience. There are exclusive online-only items for Ferrari by renowned designers and manufactures, such as Tods and Damiani, in the clothing section, and Colnago bicycles, in the sports section.

Maserati
The online Maserati store is a specialty store with products suitable for men and women. Although the inventory is deep, the Maserati merchandise is for adults only. There are no goods for children, that is, unless the Maserati Teddy Bear counts. Look into the leather goods for belts, leather briefcase, leather bags, driving gloves, and iPhones and iPods bearing the famous mark of the trident.