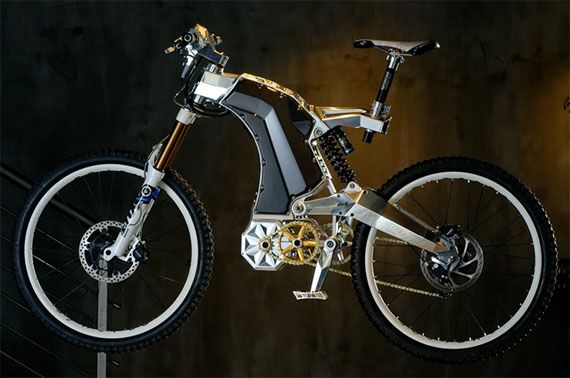 This hybrid
bicycle
has the potential to provide an electrifying riding experience for all riders.
With its intuitive built-in power-boosting system, the Beast, by M55, is an electric bicycle that makes cycling viable transportation in many situations. Driven by a sensor, that extra spark or braking power needed to boost the "human power" kicks in as needed.

This technologically advanced cross-country-style bike makes those hills that could not be pedaled up now ascendable and those hair-raising, "I could die!" descents as manageable as a breezy cruise on level land. The builders of the Beast are avid mountain bikers themselves.

According to its manufacturer, M55, the Beast is the fourth stage of the evolution of its hybrid bicycle concept by the Hungary-based company. The half-man, half-electric powered machine contains a suspension and a braking system akin to the sophistication level of systems on a Formula 1 race car. The same company renowned for stopping race cars on the F1 circuit, Brembo, also provides the braking system for the Beast. At full-throttle, the battery charge lasts for about 27 miles of travel. It will go for more than 90 miles when used normally.

The hi-tech bike's 19-inch frame is made of an aluminum composite that possesses the tensile of steel, making the additional weight of the wiring, batteries, and motor a manageable load. The wiring required to operate the complex system is concealed without a trace.

Orders for the limited-edition Beast electric bicycle, which are expected to ship by spring 2011, are being accepted online. Only 250 of the bicycles will ever be built. The company's website lists the price of the Beast at $35,300.

Visit www.m55-bike.com/en to learn more.