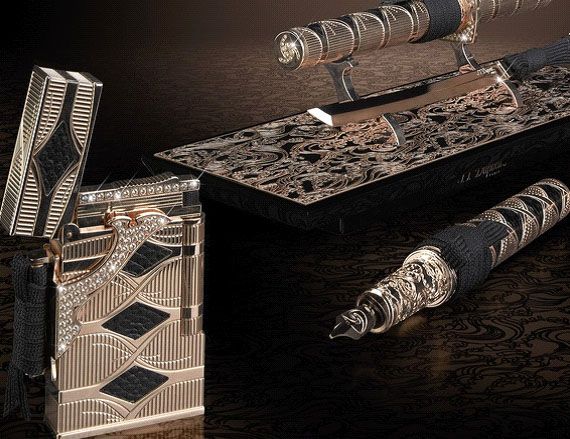 Photo Courtesy of S.T. Dupont
S.T. Dupont, founded in
Paris
in 1872, has come out with a new ultra-luxe limited edition lighter and fountain pen set designed in homage to the storied military nobility of feudal Japan.
The Samurai Prestige Lighter and Pen set, limited to just 20 pieces, is priced at about $66,000 and comes complete with a display stand and matching katana or samurai sword letter opener. The rare and exceptional creations for gentlemen from
S.T. Dupont
feature a chiseled piece of solid rose gold set with hundreds of white diamonds and textured black leather and silk ribbon accents.
The katana, the beauty of which was second only to their formidable effectiveness, serve as the model for the collection. In 1941 Dupont invented the first pocket petrol lighter for the traveling case of a Maharajah. At the time Dupont's ultra-luxurious travel cases were its main line.
In 1947 they made one in lavender blue leather for HRH Princess Elizabeth of York, the future Queen of England. In 1952 Dupont patented the adjustable gas lighter upon which the present model is based and created a special model for the Duke of Windsor, which was reissued in 2006.