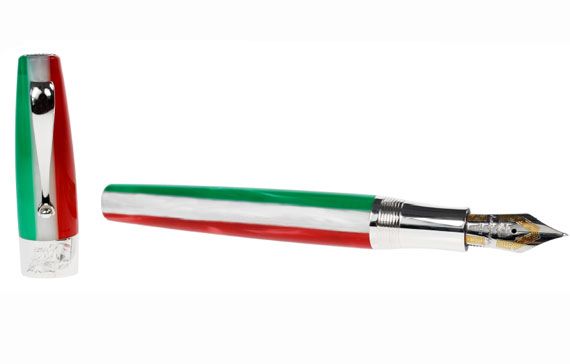 Photo Courtesy of Montegrappa
Italy-based luxury pen manufacturer Montegrappa has introduced Italia, a set of commemorative pens to celebrate
Italy
's 150th anniversary.
The Italia line of luxury writing instruments is making its debut this week at Baselworld, the largest annual event for watch and jewelry professionals held in Basel, Switzerland. The eight-day conference began March 24 and extends through to March 31.
Italia will be available in a roller ball and a fountain pen version. The decorative pen features Italy's green, white and red national colors and is accentuated with a silver trim. Italia is a limited-edition item, as only 1,500 of each format will be sold. Additionally, both variants of Italia will be available in an 18-karat solid gold trim. Only 150 of each version will be produced with the gold trim.
While Italy's landscape is dotted with manmade structures that predate the dawn of Christianity and its history encompasses the Etruscan civilization and the Roman Empire, the country was not united until 1861. The Resurgence, or il Risorgimento, was a social movement that began in 1815 and ended when the disparate states unified under the sovereign of King Victor Emmanuel, who became the king of Italy on March 17, 1861.
Italia is the latest set of high-end writing instruments by Montegrappa that commemorate historical events, places and iconic individuals. Examples of the company's tributary pen sets include sports figures Muhammad Ali and Bruce Lee, Alfa Romeo's 100th anniversary, and golf's St. Andrews Links.
For more information, visit
www.montegrappa.com
.