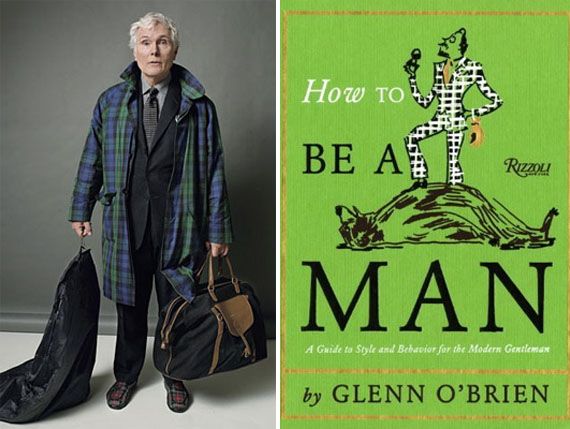 Photo Courtesy of GQ & Amazon.com
Glenn O'Brien, better known as the Style Guy in the pages of GQ magazine, has done a lot of living. He's edited Interview twice, worked as the creative director for Calvin Klein and Island Records and hosted a TV show in the 80s, among other endeavors. No matter what, where or when, he always looked good doing it and was usually the life of the party.

In his new book, How To Be a Man: A Guide to Style and Behavior for the Modern Gentleman from Rizzoli, O'Brien imparts the wisdom gleaned from a lifetime of stylish exploits. The book is a treasure trove of sartorial and etiquette lore delivered with the author's signature wit and verve.

In sections titled "Manhood," "Style," "Behavior," "Culture & Society," and "Wisdom," O'Brien offers his take on the difference between a man vs. a gentleman, style vs. fashion and the dandy vs. the dude. He offers avuncular advice on grooming, entertaining and decorating, communication both electronic and primitive, age-appropriate dress, cursing, fighting, sex and death.

Sections include "How to Not Look Stupid," "Jewels and the Man," "How to Have a Vice," "How to Be Famous (or Not)" and more, accompanied by equally droll drawings by renowned illustrator Jean-Philippe Delhomme.

He even has a blurb on the back from Kate Moss, who notes that "If more men read Glenn O'Brien, women would have a lot less explaining to do." Add this tome to your style library ASAP, is our advice.