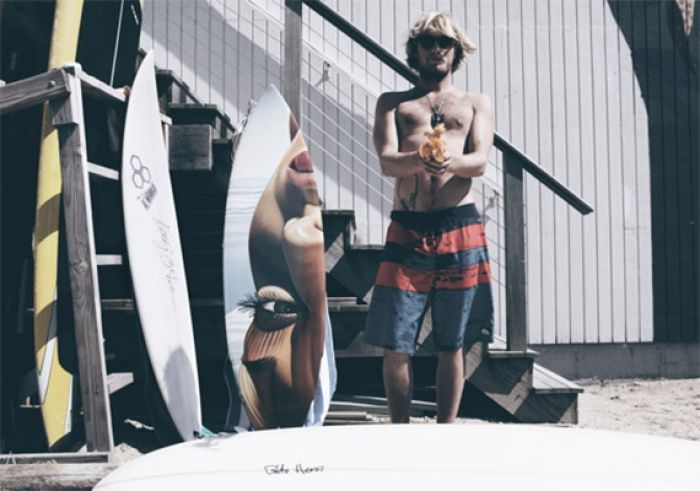 Photo Courtesy of Gilt Groupe
What makes perfect sense for summer? A surf sale!
Gilt Groupe
is currently holding a summer surf event that includes everything you need for an endless summer. The sale launched on July 20 with surf-inspired products and experiences across all Gilt Groupe categories. Exclusive to Gilt.com are five rare Kelly Slater autographed Channel Islands Surfboards and two one-of-a-kind surfboards curated by Cynthia Rowley with ExhibitionA.com artists.
Through the Surf's Up sale, Gilt.com is able to offer five rare Channel Island Semi Pro surfboards autographed by Kelly Slater as well as two styles from contemporary art website ExhibitionA.com designed by artists Richard Phillips and Sean Landers. A portion of the proceeds from the sale of all of the surfboards in the Surf's Up sale will be donated to The Pablove Foundation in support of pediatric cancer research and advances in cancer treatment. The Richard Phillips board is already sold out but Sean Landers' scary clown can be all yours for $3,700.
The sale also includes items from Cynthia Rowley's ready-to-wear collection in exclusive colors and fabrics for Gilt.com, as well as a Cynthia Rowley for Roxy wetsuit from her upcoming August collection, beauty products, tan towels and sunscreen. The Gilt man site is offering wetsuits, surf jackets, boardshorts and sportswear from Quiksilver, featuring the Kelly Slater sandals. The children's site is selling Quiksilver boys and Roxy Girls apparel; local city sites are offering surf/summer related experiences and Jetsetter has curated sales of favorite beach destinations by Kelly Slater. Visit www.Gilt.com/SurfsUp to get yours.