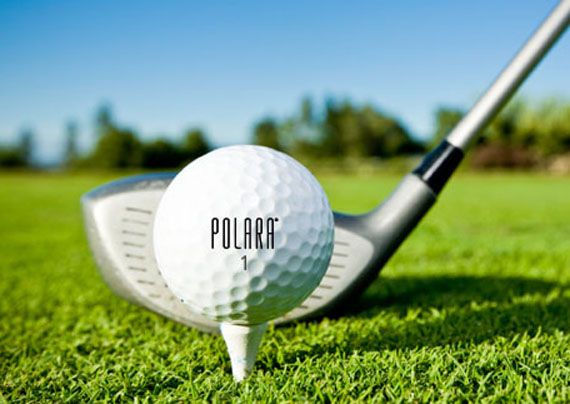 Photo Courtesy of Polara
If these golf balls work as promoted, it is understandable why this product would not be permitted for use in USGA-sanctioned events. A
golf
ball with a design that enables it go straighter than other balls 75 percent of the time would certainly provide a competitive edge. The balls were indeed banned by the USGA in 1981. However, after taking the product out of the U.S. market in 1985, Polara has since received a new patent is back selling its balls in the USA.
At my skill level at this game, I could not think of anything with as much potential to make a foursome on the links among my friends, the "gang that really cannot shoot straight," a more fun experience for all of us. These self-correcting golf balls are guaranteed to shoot straighter off of a golf club than any other golf ball.  
Polara, the manufacturer of the Ultimate Straight and the Ultimate Straight XS, claims that using its balls will result in a straighter drive. The balls are being advertised as the "world?s first self-correcting golf ball." 
The edge stems from these balls containing a trademarked, self-correcting technology that corrects for slices and hooks. Polara has compared the flight patterns of its Ultimate Straight golf balls to those of the Titelist Pro V1 and the Top Flite XL Straight. Golf Laboratories, an independent product testing company, verified Polara?s claim that its balls went straighter.
The self-correcting feature is attributable to an innovative dimpling pattern and the materials used to construct it. However, terms such as "soft polybutadience core" and a "soft lonomer cover" did not pique my interest as much as the 12, short testimonial videos by everyday players did on the company?s website.
Check out the statement offered by the gentleman below. Watch his swing. If it helped him, the Polara Ultimate Straight golf balls could be on par as the miracle we have all awaited! For more information, visit
PolaraGolf.com
.
{start-jlvideo}675{end-jlvideo}