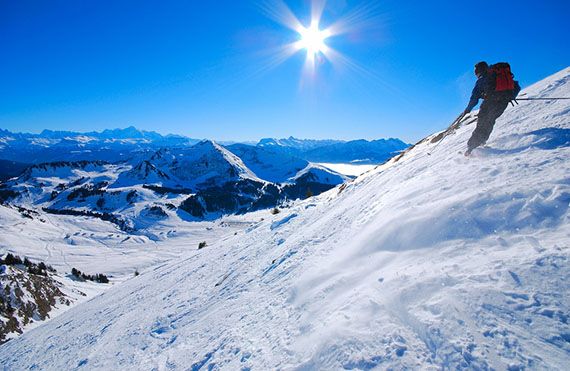 Photo Courtesy of Shutterstock
An early-season dusting recently rolled through some of America's higher elevations, and seeing a touch of white on the mountain landscapes has plenty of people yearning for the chairlifts to start spinning so they can get some turns in.
Skiing
has long been the favorite winter time getaway for the country's distinguished families, but there's a handful of hassles that can ruin a day on the slopes. Lugging armloads of equipment to a crowded ski area only to deal with lodge food is enough to turn the experience sour, but luckily there is a banquet of bespoke services at your disposal this winter.
Start your day with a little assistance from Black Tie Ski Rentals. Their service allows you to skip the assembly-line corrals of a rental shop with equipment delivery direct to your accommodations. Make a reservation and the company sends a personal ski concierge to your room to custom fit your equipment with your needs before you even step outside. The company uses only the best equipment of the season, so you're guaranteed premium gear, and if you have any issues with it they also include on-slope services for adjustments throughout the day. When you're done for the day they'll come by and pick your skis up and take them away. The best part about their service is that they have about twenty locations at mountains in four states and Canada.

If you've mastered your equipment and are ready to take your skiing to the next level leave the chairlifts behind for a heli-skiing adventure. Colorado's Silverton Mountain caps the amount of tickets they sell each day to
ensure there's plenty of powder to go around, but then they also offer helicopter trips to nearby peaks. You can reserve their helicopter for the day if you've come to the mountain with your buddies, or just opt for a single flight to the top. Silverton offers a variety of services on their chopper to meet the needs of any skier, although pulling the James Bond jump out of the heli takes a firm confidence in one's own abilities.

A day of taking on the world's steepest terrain is a surefire precursor to burning muscles in the afternoon, and if you happen to be staying at Hidden Dragon in the Swiss Alps you can arrange for pre- and post-skiing yoga sessions to stay limber. Hidden Dragon is a luxury chalet with an incredible variety of services, but their partnership with London's Yogoloji agency seriously elevates their status. Arrange for a private session on both ends of your day and they'll send one of their yoga masters out to the mountains to take care of you.




Granted, most resorts have some incredible fine dining options between their own facilities and whatever ski town you've chosen to visit, but for a truly unique—and utterly romantic—experience join Mammoth Mountain for a Parallax Snowcat Dinner. Beginning just in time for Christmas you and your guest can board a real snowcat (heated and with comfortable seating of course) with champagne in hand as it crawls up to the mid-mountain McCoy Station. You'll likely see more stars than you knew existed, and upon arrival guests are seated at the Chef's Table within Parallax, the resort's finest restaurant. This truly unique experience is the best way to connect with the mountain for an unforgettable evening.




All of these services will undoubtedly create a more enjoyable ski trip for you and your family, but there's little most places can do about a crowded holiday weekend. Luckily, The Yellowstone Club doesn't fall into the 'most places' category. This invitation-only private residential, ski, and golf club features stunning cabins and lodges rising from the snowy Montana landscape, and offers perhaps the most exclusive skiing in the world. Those who enjoy the privilege of membership here share the ski area's 2,220 skiable acres and over 300 inches of annual snowfall with only about 250 other members.