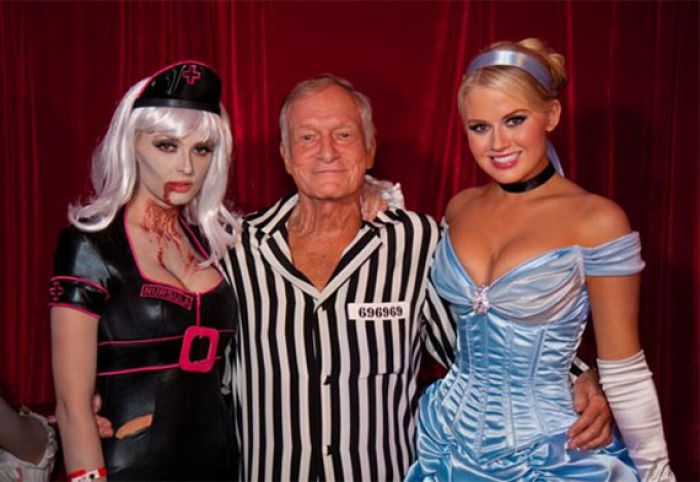 Photo Courtesy of Karma Foundation
By far the hottest ticket in town each Halloween is for the Karma Foundation's "Kandy Halloween" event — a no-holds-barred, over-the-top, fantastically outrageous costume party with all of the fabulosity, frolicking and fantastic-looking ladies one would expect, if not demand, of the Playboy Mansion venue where the highly anticipated annual affair is hosted.
But, the socially responsible
Karma Foundation
has more than one trick up its sleeve as a portion of the proceeds from this spooktacular event, and all other parties and socials executed by this exclusive private membership organization, are donated to various thoroughly vetted charities.
The Beverly Hills, California-based Karma Foundation is steadfast in achieving its organizational mission of providing its members with "remarkable luxury lifestyle services and unique experiences that enrich their lives, expand their spheres of influence and benefit noble charitable causes."
Indeed, Karma members are a force to be reckoned, all united by a pay-it-forward attitude to create "positive societal change and facilitate good things coming full-circle." This group parties with a purpose!
"The members of the Karma Foundation do more than attend exclusive parties," said Dylan Marer, CEO of The Karma Foundation. "We're proud to take an active approach to benefitting philanthropies." In addition to holding über-posh private networking socials around the U.S. each month on yachts, in mansions and other elite locations, the Karma Foundation is widely known for its extraordinary Kandy Events; spectacular experiences held in exclusive and sensational social environments that each benefit charitable causes.
The Karma Foundation's Kandy Events have made a huge impact on the social scene with the most outrageous and coveted parties being held each year, including Kandy Masquerade, Kandyland, and Kandy Halloween — collectively the three biggest events held at the Playboy Mansion. This year I was fortunate enough to attend Karma's 5th annual Kandy Halloween event, which exceeded my admittedly high expectations. Rest assured this does not happen often.
The Playboy mansion's "Gothic-Tudor" style is by far the best and most apropos location to host this baroque Halloween bash. And one night of Halloween revelry simply won't do amid the Karma Foundation's "bigger and better" mentality, so this particular party is a two-night extravaganza — this year on Friday, October 28 and Saturday, October 29.
Each year this costume-mandatory event (even if those costumes are nothing more than body paint and rhinestones) boasts top talent on the bill. On Friday night this year, world-famous DJ, ATB, brought the house down by spinning his international dance tracks. Then, Saturday night featured LMFAO, which had the whole party shuffling to the chart-topping "Party Rock Anthem" among its other favorite hits. As LMFAO did their thing on stage, the atmosphere was absolutely kinetic and the merriment infectious.
Kandy Halloween partiers enjoy many perks, including parking and shuttle service, open premium bars and buffets (that were decidedly tasty I must say) created by the Playboy Mansion's Executive Chef, the live performances plus Kandy Dancers and DJs. They also enjoy access to the Playboy Mansion grounds from 8 p.m. until 2 a.m., which span five acres; much of which is decked out in full Halloween regalia. Members, themselves, not only pay $3,000 annual dues for the privilege of Karma membership but also a cool $1,000 for access into this particular event. This is a fee members are happy to pay, however, knowing a portion of those funds will be put toward worthy causes and that the experience overall will be priceless.
Parties like this exemplify the elaborate and extravagant Karma Foundation mentality, with each event not-to-be-forgotten. Becoming a member provides access to legendary events like this, and an array of other luxury lifestyle and hospitality services. Karma uniquely affords members the opportunity to socialize and rub elbows with highly successful, influential, like-minded individuals who seek to drive positive societal change and facilitate good things coming full-circle. It's said that once you are accepted as a Karma Foundation member, your life will never be the same again. Indeed. Learn more about the Karma Foundation and its good work in my related story here.
***Some or all of the accommodations(s), experience(s), item(s) and/or service(s) detailed above were provided at no cost to accommodate this review, but all opinions expressed are entirely those of Merilee Kern and have not been influenced in any way.***