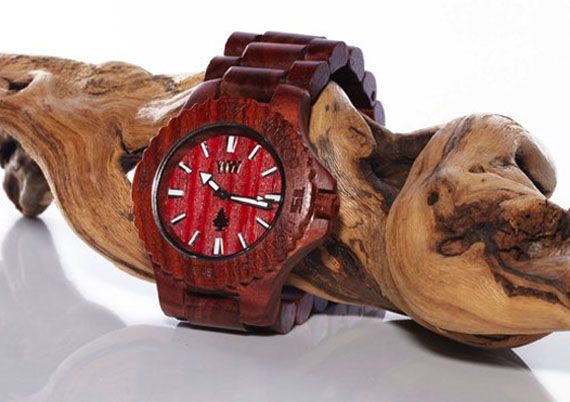 Photos Courtesy of AHAlife
The earth contains one trillion tons of wood, so it makes sense to use it. The
technology
boom that has dominated the last decade has drawn our interests away from the warm feel and look of wood, but this year it has been making a comeback in a variety of unique uses. Our good friends over at AHAlife are all over the trend, so we lumbered through their vast selection to bring you a few special items.
Reunite your Apple with its natural home by popping your iPad or iPhone into a black walnut station. The Hekseskudd design company makes several peripherals, the highlight perhaps being their
iPad station
($139). This docking unit allows users to orient their iPad vertical or landscape, and fits Apple's wireless keyboard perfectly. If you have a desktop, they also have the keyboard tray by itself, with storage compartments underneath for all your cables. Complete your set with the
iPhone docking tray
($139). This nightstand classic maintains the space needed for whatever lives in your pockets and seamlessly incorporates a charging station for your iPhone or iPod.
Branching out from the established concept of plastic frames, a Parisian company is offering sustainable
shades made from renewable tea tree wood
($180). Available in wayfarer or aviator style, these sunglasses are sure to spruce up your fall look. Each handmade style is available in a light, natural tone, or a dark vintage colorway, and features Carl Zeiss lenses for UV protection. These sunglasses even arrive packaged in a limited-edition, artist-designed and hand-screened cotton scarf.
A quality watch is great for telling the time, but now your wristpiece can tell others how much you care about the environment. WeWOOD, makers of the
organic wood watch
($119), promises to plant one tree for each one they sell. These timepieces are made from rare and often re-used wood, and the band, crown, and face are all made from timbers. The beige color comes from maple wood, the brown from red wing celtis, and the army from guaiaco — an Amazonian tree known to remedy arthritis pain.
One of the greatest things about wood is the sound it makes. Think covered bridges and baseball bats when you consider the acoustic qualities of these
cancer-free ear bud headphones
($70). Radio frequencies that usually travel all the way to the ear stop farther away from your brain thanks to the wood tube construction; and since scientists are still barking about whether cell phones are safe to hold to the head that should help fell any fears. These ear buds, with in-line mic, are made from recycled materials, and have a gold-plated 3.5mm plug.