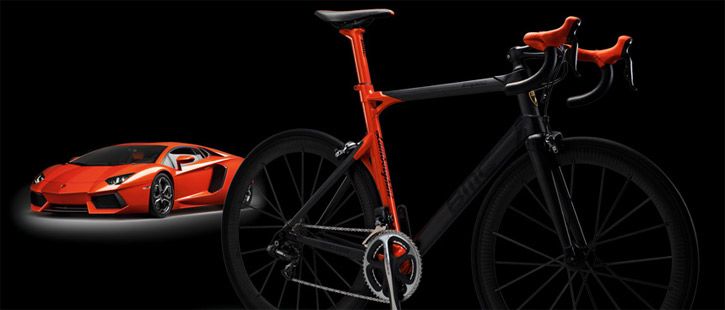 Photo Courtesy of BMC
If you love race bikes and are a fan of Lamborghini's stylish automobiles, then you're going to really appreciate the merging of the two. The Swiss Bicycle Manufacturing Company (BMC) is an expert when it comes to creating unique, detailed bikes for the city, track, or trail. With equal passion for high-end, innovative products, BMC teamed up with
luxury car
maker to create a limited edition, high-tech bicycle for the select few who can produce the purchase price.
The Lamborghini impec is a race bike that is "handmade by machines" in Switzerland. This customized and controlled manufacturing process ensures the best quality result with optimum performance and precision. The exclusive bicycle contains lightweight, carbon fiber materials, custom artwork with airbrushed Lamborghini Argos Orange, handmade Lamborghini suede saddle and handlebar, high profile carbon fiber rims, and a Shimano DI2 electronic shifting system.
The technological capabilities and emotional connection both companies possess is clearly demonstrated in the Lamborghini impec. BMC is only making 30 of these luxury race bikes going for 20,000€ (approx. $26,000 U.S.) each. Contact your local Lamborghini or BMC dealer or go to
BMC-Racing.com
to learn more.
For more luxury bikes visit: Our 5 Picks for Best Luxury Bicycles